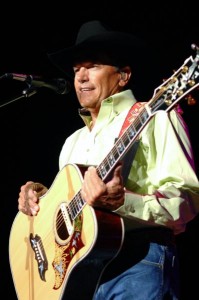 Never known for flamboyance, country star George Strait performs with a steady hand and soft-spoken style.
Well, maybe not entirely soft-spoken. He can belt out a tune like "The Fireman" or "Honk If You Honky Tonk" with the command of a trail boss who needs to be heard over a herd of cattle.
Even so, it's the gentle cowboy ballads such as "Amarillo by Morning" and "I Can Still Make Cheyenne" that have given Strait his time-tested appeal. He's been making hit songs since the 1980s — more than 40 have gone to No. 1 — and to date he's sold more than 67 million albums. He's clearly doing something right.
Though Reba McEntire and Lee Ann Womack, who shared the all-country bill Saturday night (March 27) at the Tacoma Dome, may have outshined him in girl-power showmanship, Strait was steady-as-she-goes when it came to delivering the songs that have provided a foundation for modern country over the last three decades.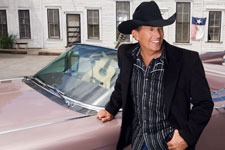 All three acts performed in the round, which allowed them to circle the stage and play directly to the concertgoers sitting below them. It's a method of staging that Strait has used before to his advantage.
Opening with "Deep in the Heart of Texas," Strait's Ace in the Hole Band set the stage with the western swing sound that is at the core of Strait's music. (You can read my preview of the concert here.)
Strait soon stepped out in his Wrangler jeans, light-green shirt, cowboy boots and black hat. The lengthy set, packed with about 30 songs, ran the gamut from his first hit, "Unwound" from 1981, to the current "Twang" from his album of the same name. By the way, "Twang" was written by Jim Lauderdale, Kendall Marvel and Jimmy Ritchey, who was part of the Seattle scene in the 1990s, when he played with country as well as grunge bands.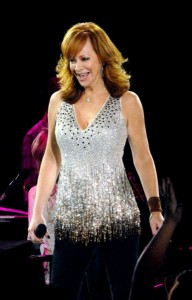 Aside such new songs as "Twang" (the opening song), "Where Have I Been All My Life" and "Arkansas Dave" (written by son Bubba Strait), the show played like a greatest-hits package. In fact, the concert didn't vary much from past shows, right down to an encore that featured such tunes as "Folsom Prison Blues," "All My Ex's Live in Texas" and "The Cowboy Rides Away," his classic closer.
It was disappointing that he didn't include "El Rey," a traditional Mexican folk song from the new album that he sings entirely in Spanish. Maybe Strait felt that the predominantly white audience at the Tacoma Dome wouldn't appreciate it. But it was gutsy for Strait to record it, and it would have been amazing to hear it live. You can read more about the song here.
McEntire performed the fiery middle set, sharing clips from her "Reba" TV sitcom and performing such songs as "I'll Have What She's Having," "Consider Me Gone" and "Is There Life Out There."
McEntire performed Kelly Clarkson's tear-jerking "Because of You," noting that the "American Idol" star had written the song at age 16. The song originally had been included on Clarkson's "Breakaway" album, but was re-recorded as a duet with McEntire for "Reba: Duets." The duet recording led to Clarkson's first appearance on the country charts.
The tender title song from McEntire's 2009 album, "I Keep On Loving You," was dedicated to songwriters Kix Brooks and Ronnie Dunn of Brooks & Dunn, who are planning to break up after a farewell tour this year.
A highlight of the show was a comedy skit with Melissa Peterman, her co-star from "Reba." The effervescent and apparently tipsy Peterman passed a Budweiser to McEntire and quipped, "The queen of country is holding the king of beers."
The pair then sang a crowd-pleasing duet of "I'm a Survivor," the show's theme. But the biggest applause came when Peterman reminded the crowd that McEntire's birthday officially started at midnight (March 28).
Another highlight of McEntire's set was a powerful duet with Womack on "Does He Love You?" The two singers' voices blended beautifully. (McEntire originally recorded the song as a duet with Linda Davis.)
McEntire, who boasted the best costumes, closed her set with the boisterous "Fancy."
Womack's own set was filled with greatest hits, among them the lovely "I Hope You Dance," the title song of her 2000 album.
What did you think of the concert? You can post a comment below.