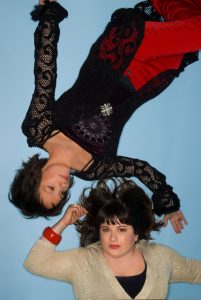 Seattle musicians Sarah Rudinoff and Gretta Harley, who collaborate as We Are Golden, have such eclectic interests in music and art that the duo has dubbed its upcoming three-part concert "This Is Me Sometimes. . . "
The show at 7:30 p.m. Wednesday (July 29) at The Triple Door features a cabaret/ theatrical set by Rudinoff, followed by an acoustic performance of original solo piano music by Harley. Tickets: $20.
The evening concludes with a rocking, full-band set inspired by the duo's mutual love of rock 'n' roll. And that's really where the title of the show comes from. The evening explores different aspects of their respective careers.
"(Sarah) just really wanted to have a rock band," Harley said over coffee recently, "so that's why we called it 'This Is Me Sometimes. . . '
"It's the most evolved show we've done. It kind of solidifies all the schizophrenia of our individual lives and puts it all into one place."
Several years ago, Harley, a composer-in-residence, music director and adjunct instructor Seattle's Cornish College of the Arts, met Rudinoff, a local cabaret star and Stranger Genius Award winner who played Yitzhak in "Hedwig and the Angry Inch" at Re-Bar. The two hit it off quickly.
The duo's name comes from "Woodstock," the Joni Mitchell classic: "We are stardust/ We are golden/ And we've got to get ourselves/ Back to the garden. . . "
Harley moved to Seattle from New York City in 1990. She had been looking for a tranquil setting to work on her piano compositions and settled in Kingston, on Bainbridge Island, where she was surrounded by water and woods and given use of a baby blue 1962 Ford Fairlane that she recalls fondly.
She finally ventured into Seattle one night and fell in with a group of musicians at the Frontier Room in Belltown. The night became an adventure with newfound friends who invited her to a secret Soundgarden show at the Central Tavern. Her first Seattle gig didn't come until a year later, when she did a music installation at Bumbershoot.
Years later, the classically trained pianist co-founded Home Alive, after Mia Zapata's rape and murder galvanized Seattle's community of female musicians, and produced its first album for Sony Records. Over the last two decades, her music has graced the Seattle Fringe Festival, TV documentaries, music videos and a number of recordings.
Harley has worked on a number of Cornish productions, among them "Tales From the Ovid," "Twelfth Night," "Mail Order Bride," "Peer Gynt," "The Beggar's Opera" and her own "Foxes in Boxes" and "Insomnia." She is also certified in Dalcroze Eurhythmics, a music education ideology pioneered by Emile Jaques-Dalcroze, a Swiss musician and educator who died in 1950.
Several years ago, Harley met Rudinoff, who had worked in Los Angeles and New York and was known for her raw, powerful vocals. The collaborated on a cabaret piece titled "Last Year's Kisses," featuring cover songs. "We Are Golden," the duo's first EP, was recorded at Jupiter Studios with producer Martin Feveyear, who has worked with Modest Mouse, Brandi Carlile, Jesse Sykes and others.
The duo's current show was well-received in New York, L.A. and West Seattle, where the pair played a street festival with Harley's poodle mix, Zorro, barking in time with the music.
Among the band members performing at the Triple Door will be musician Barrett Martin of Screaming Trees, Mad Season, Tuatara and other groups.
"He's into zen and is applying for an enthnomusicology position," Harley said. "We're the only rock band he's playing drums for."
Sample the duo's music here.