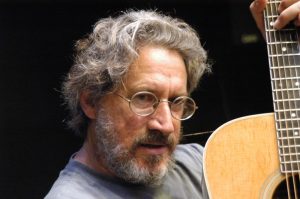 By GENE STOUT
Iconic Seattle folk musician and activist Jim Page will perform a benefit for Veterans for Peace at 8 p.m. Saturday, Nov. 19, at Seattle Public Theater at the Bathhouse, formerly known at the Bathhouse Theater. Doors open at 7 p.m.
The Seattle Chapter of Veterans for Peace will use the event to raise public awareness of "the true costs of war – and to seek peaceful, effective alternatives."
Page, who celebrated his 40th anniversary as a performer with a concert last June, has performed more than 2,000 concerts in Seattle alone. Many have been benefits for causes and organizations he supports.
Page began playing guitar at 15 in California and arrived in Seattle, via New York, in 1971. In 1974, his campaign to make street performing legal in Seattle was a success.
His concerts are powerful, socially conscious performances tinged with sarcasm and dark humor. He has been a voice for social justice ever since he set foot in Seattle. His song "Paul Allentown," from the 2004 album "Seattle Songs," is among his more memorable tunes.
Tickets, $15, are available through Brown Paper Tickets or at the box office beginning at 7 p.m. the day of the show.
A block of 30 seats will be set aside for youth, seniors, disabled vets and those with low incomes.
Visit Page's website here, and read a 2007 Seattle Post-Intelligencer profile of him here.
Follow this link to the local chapter of Veterans for Peace. For more information about the show, go to the Greenlake Bathhouse website.