By GENE STOUT
Acclaimed photographer Danny Clinch, in collaboration with Bandwdth Publishing, has created a $2.99, interactive iPad app – titled "Discovery Inn" after his 1998 book — that provides users with a private tour of his iconic images of such artists as Eddie Vedder of Pearl Jam, Radiohead, Tupac Shakur, Johnny Cash, Phish, Metallica, Chuck D. and The Beastie Boys.
"I never imagined when I put together the book for 'Discovery Inn' (in 1998) that there would come a moment in the future where the images, stories and cameras I used would turn into an interactive experience," Clinch said in a news release.
"This is an opportunity for me to share the unique and never-before-seen outtakes, contact sheets, polaroids and stories that shaped this time of my life and era of music. It takes the book to a whole new level."
Alan Light, music critic, former editor-in-chief of Spin and co-founder of Vibe Magazine, wrote that "Discovery Inn" highlights "two genuine musical revolutions" in a ten-year span from 1988 to 1998:
"Hip-hop rose up from the streets to take over pop music, and the movement that came to be known as 'alternative rock' seized control of the guitar-based universe. And Danny Clinch was dead-center for both of these uprisings, documenting them for eternity."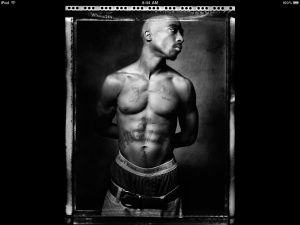 "Discovery Inn" includes 93 photos of world-famous musical artists, audio commentary from Clinch, 26 Polaroids from Clinch's personal photo collection, contact sheets from many of his 'Discovery Inn' shoots, a virtual tour of his camera collection, artist profiles and recommended songs, two unreleased tracks by Blind Melon, and two unreleased tracks by Brad Smith/Abandon Jalopy.
Danny Clinch is one of the top photographers in popular music, contributing photos to Vanity Fair, Spin, Rolling Stone, GQ, Esquire, The New Yorker and The New York Times Magazine, as well as hundreds of album covers.
Clinch has published two books: "Discovery Inn" and "When the Iron Bird Flies" (2000). And as a director, Clinch has received two Grammy Award nominations: one in 2005 for Bruce Springsteen's "Devils and Dust" and a second in 2009 for John Mayer's "Where The Light Is." Visit Clinch's website here.