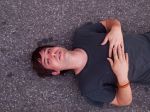 By MIKEL TOOMBS
Do you think Eliot Lipp, the electronica performer hailed by Urb.com as being on "the cutting edge of beatwork," remembers his old hometown?
Well, the Stadium High School alum named his second album "Tacoma Mockingbird" and his new release, "How We Do: Moves Made," is out now on his own label, Old Tacoma Records.
Lipp, who performs Thursday, Dec. 15, at The New Frontier Lounge (301 E. 25th St., Tacoma), has since relocated from Tacoma, Wash., to hipster central, Brooklyn, N.Y., after stops in San Francisco and Los Angeles.
"Tacoma and Brooklyn are of course very different," Lipp says. "But there is one similarity that I find, and that is the overwhelming sense of self-pride and home pride. People seem really proud to be from, or live in, Brooklyn. Tacoma is the same."
"How We Do" is inspired in part by the countless hours Lipp and his musical partner, Jasia-10, spent scouring the bins for turntable treasures at Tacoma's House of Records.
"House of Records was definitely our stomping ground," Lipp recalls. "I bought Lonnie Liston Smith's 'Renaissance' at House of Records when I was younger. I didn't know anything about the artist, but the cover art was such a trip. That's how we bought a lot of albums before they set up a listening station there."
Jasia-10 adds, "I've made a lot of satisfying purchases over the years, but one that stands out is that was the first place I ever found 'Funky Worm' by the Ohio Players on vinyl, which was a very big deal to me at the time."
(EDITOR'S NOTE: Mikel Toombs is a frequent contributor to GeneStout.com. Read his recent preview of the Deep Dark Woods here.)