By GENE STOUT
It was classic arena rock: Axl Rose and Guns N' Roses — plus former bandmate Duff McKagan and Loaded — on stage Friday, Dec. 16, at Seatle's KeyArena.
Face-melting pyrotechnics, numerous spotlight solos, five video screens and a split-level stage with a "grille" of LED lights – all done in a red, white and black color scheme that would have pleased Santa's wardrobe department.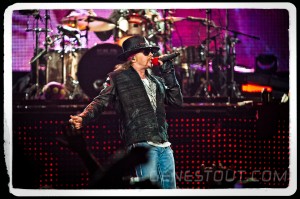 Seattle fans got a special treat when former G N' R bassist (and Seattle native) McKagan opened the show with his current band, Loaded – then joined Rose and company later for a raucous version of "You Could Be Mine."
The Key was maybe 15 percent full at the official start time of 7:30 p.m., but filled to more than half capacity for the opening set by Loaded. By the time Rose and Guns N' Roses took the stage at 10:30 p.m., the arena was completely packed. G N' R continued playing into the wee hours of the morning, rocking and rolling through a long, loud, lead-footed show.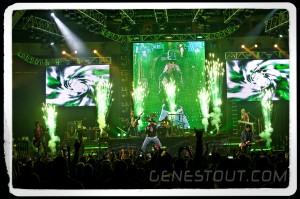 The boisterous concert opened with the theme to TV's "Dexter," before exploding with a flash pot-enhanced version of "Chinese Democracy" – followed by "Welcome to the Jungle," "It's So Easy" and "Mr. Brownstone."
With more than 30 songs in the marathon set, the band charged through its songs like a grizzly bear on fire.
Classic songs peppered the show, among them "Sweet Child O' Mine" and "Paradise City." Rose, wearing jeans, black jacket, black hat, dark glasses and several crosses around his neck, was in great form, commanding the crowd's attention.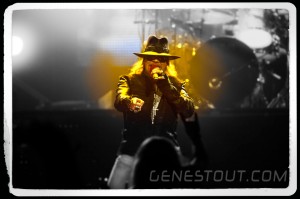 Even at 49, Rose still has plenty of sass and attitude, qualities fans expect from the veteran rocker and only original member of G N' R. He looked fit.
Band members playing solos included guitarists Richard Fortus, Ron "Bumblefoot" Thal (on "Pink Panther" theme) and DJ Ashba ("Ballad of Death"); pianist Dizzy Reed ("Baba O'Reilly) and frontman Rose, also on piano ("Goodbye Yellow Brick Road" and other songs). Among the instrumental jams was a powerful take on "Another Brick in the Wall, Pt. 2." And bassist Tommy Stinson was featured on the song "Motivation."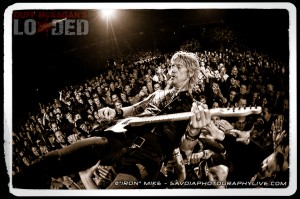 There were some other choice cover songs, too, among them Bob Dylan's "Knockin' On Heaven's Door," AC/DC's "Riff Raff" and "Whole Lotta Rosie"; and Paul McCartney and Wings' James Bond theme, "Live And Let Die."
The audience clearly got its money's worth from the marathon rock 'n' roll show. The current tour is a nice prelude to the band's induction into the Rock and Roll Hall of Fame in April 2012.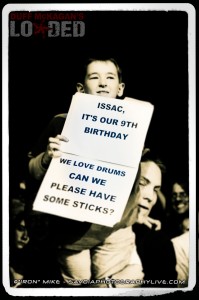 Also in fine form was McKagan, who pleasantly surprised local fans by agreeing to open the G N' R show with Loaded (featuring guitarist Mike Squires, bassist Jeff Rouse and drummer Isaac Carpenter).
The band recently returned from a string of dates in Germany.
"It's just great to be home playing these f**king shows," the heavily tattooed McKagan said, adding that Seattle has a great music scene (still) and that people should go out and support it.
Loaded was a force of nature. The band packed a slew of songs into its one-hour set.
Read about McKagan's decision to open for G N' R in an interview with NME.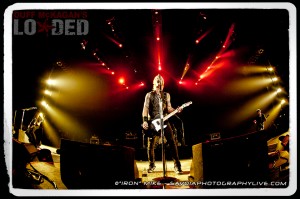 Photos accompanying this review were taken by Seattle photographer Mike Savoia. Visit his website here.
By the way, the young fan holding up the sign for Loaded drummer Isaac Carpenter in the photo above didn't realize Carpenter had been replaced by Burke Thomas. Carpenter is currently playing in the touring band for American Idol Adam Lambert.