By GENE STOUT
Whether he's crooning the sultry 1991 hit "Wicked Game" or teasing his fans about their eating habits, Chris Isaak has mastered the role of Mr. Entertainer.
Sporting an embroidered, neon-blue "Nudie" suit, the 58-year-old retro rocker raised in Stockton, Calif., thrilled a large crowd sprawled on the lawn Sunday night, July 27, at Chateau Ste. Michelle winery in Woodinville. Backing him was a seasoned band skilled in the various styles that make up the Isaak sound, from country noir to rockabilly.
The concert was packed with old favorites, including "Somebody's Crying," "American Boy," "Wicked Game," "Blue Hotel," "San Francisco Nights" and "Baby Did a Bad Bad Thing" (after slithering out of his jacket), as well as such crowd-pleasing cover songs as Johnny Cash's "Ring of Fire" (with full mariachi sound), Roy Orbiaon's "Pretty Woman" (featuring Isaak's soaring falsetto) and Jerry Lee Lewis's "Great Balls of Fire."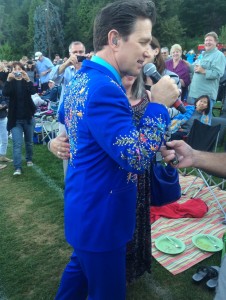 "Great Balls of Fire" was especially fun, with Isaak wearing pants decorated with hundreds of tiny mirrors and a piano that appeared to smoke, thanks to a fog machine.
During the song "Don't Leave Me on My Own," Isaak (wearing a remote microphone) strolled through the crowd for a frenzy of smartphone snapshots and one-armed hugs from concertgoers.
Indeed, Isaak knows how to work a crowd. "These are my people," he joked after the first few songs. "People have begun loosening up their clothing for the show."
Isaak also teased the "corn dog nation" that loves his music, even if he doesn't really play the country fair circuit. And before launching into "This Love Will Last," he reminded the audience, "Let your freak flag fly. It's a hootenanny."
Concertgoers piled up in front of the stage for every last drop of fun. The concert came to a raucous close at about 9:30 p.m. with "Can't Do a Thing (to Stop Me)."
Isaak, who began his career in the 1980s with the album "Silvertone," will release his next album, "Beyond the Sun," in October on Vanguard Records. Read more about Isaak at his official website here.
Opening the show was extraordinary, 16-year-old Tacoma singer-songwriter and guitarist Nolan Garrett, who is talented beyond his years. Growing up on the music of Jimi Hendrix, Alice in Chains and The Black Keys, Garrett recently signed his first recording contract with London Tone Music Group. Garrett is a natural showman who easily won over Isaak fans with his tasty guitar licks.
Learn more about Nolan Garrett here. And watch a video of Garrett performing "Don't Criticize Me":