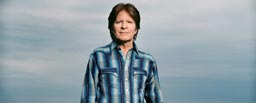 By GENE STOUT
Like a fine wine, John Fogerty just gets better with age.
The former leader of Creedence Clearwater Revival kicked off Chateau Ste. Michelle winery's 2012 summer concert season Saturday night with an impressive concert of greatest hits and well-chosen covers. Even at 67, Fogerty delivered an energetic performance that made fans smile and sing along.
A double rainbow appeared over the stage during a shower midway through the show. Fogerty later acknowledged the meteorological phenomenon, dedicating "Who'll Stop the Rain" to his daughter.
Backed by his talented and seasoned band, Fogerty opened with "Hey, Tonight," followed by a raucous "Green River." Making light of the rain that tapered off as the show began, Fogerty reminisced about Woodstock to a crowd old enough to have been there (at least some of them). "In those days when it rained, (people) got naked," he quipped.
Enhancing Fogerty's performance was the venue's new, state-of-the-art sound system, remarkable for its clarity.
The hits kept coming: "Lookin' Out My Back Door," "Born on the Bayou," "Midnight Special," "Bad Moon Rising," "Down on the Corner" (from the album "Willy and the Poor Boys") and "Up Around the Bend."
Songs from Fogerty's solo career included "Centerfield," "Gunslinger" and "My Blue Moon Nights," which had a wonderful bluegrass feel.
Fogerty paid tribute to Ricky Nelson (with "Garden Party") and Roy Orbison ("Pretty Woman"), celebrating the music of a generation of musicians.
Just before 11 p.m., Fogerty and company brought the evening to a close with "Fortunate Son," 'Travelin' Man" and "Proud Mary."
Opening act was Seattle indie-rock band Ravenna Woods, a good fit for Fogerty's roots-oriented rock 'n' roll.