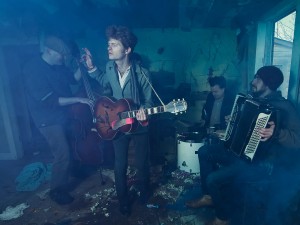 By GENE STOUT
Seattle singer-songwriter and bandleader James Apollo celebrates his new album, "Little War, Little Less," with a special concert July 27 at the Fremont Abbey Arts Center.
The former Brooklyn, N.Y., resident will be joined by the Seattle Rock Orchestra, as well as touring band His Sweet Unknown and Ghosts I've Met.
The gritty, soulful album of "lonesome highway dirges" was recorded in an old barn in the Cascade mountains and produced by Seattle indie rocker and folk balladeer Damien Jurado, who records on the Secretly Canadian label.
Here's a video of the song "Two by Two" from the new CD:
"Little War, Little Less" is Apollo's first album since his 2010 debut, "Till Your Feet Bleed."
Read more about Apollo at his official website here.
Doors open at 7 p.m., and music starts at 8 p.m. Tickets are $8 to $14 in advance at Brown Paper Tickets.
For more information, visit the Fremont Abbey website.