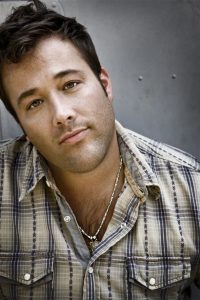 Hatless cowboys ruled the grandstand at the Puyallup Fair Friday night (Sept. 24), drawing a noisy, foot-stomping crowd for a double bill featuring Billy Currington and Uncle Kracker.
Though not really cowboys at all, the two Nashville stars represent the new guard in mainstream country music in the past decade — rocking, raucous and without the hats and chaps that sometimes define the genre. Currington and Uncle Kracker are far from country purists, often blending R&B and soul into their sets ("Superstition" by Currington and "Drift Away" by Uncle Kracker, for example).
First up was Uncle Kracker (aka Matthew Shafer), a Detroit native who looks like an indie rocker with his tattoos, disheveled hair, plaid shirt and jeans. He began his career as a rap-rocker alongside Kid Rock (who performs Sunday at the Fair), but later evolved into a country-rocker.
Backed by a five-piece band, Uncle Kracker kicked off his set with "Swingin' (a crowd-mover that set the tone for show), followed by "When the Sun Goes Down" (his 2004 hit duet with Kenny Chesney), "Better Days," "In a Little While" and "Drift Away," the Dobie Gray song.
With the aromas of Puyallup Fair foot wafting through the grandstand and a nearly full moon rising to the east, Uncle Kracker sounded grateful for the success he has achieved in the last decade. He recounted his two-week trip to Iraq in July to perform for U.S. troops. "I'm not in a hurry to go back, but it was an honor and a privilege," he said.
"Letter to My Daughters" was accompanied by a touching story about his young daughters counting the days until his return home from a tour; a version of Kenny Rogers' "The Gambler" followed a story about his obsession with Rogers when he was 8 years old.
Uncle Kracker closed his set with the rocking "Good to Be Me" (his 2010 hit with Kid Rock) and "All Summer Long," followed by the romantic hit song "Smile," his 2009 hit from "Happy Hour."
Backed by a seven-piece band, Georgia native Currington played on a stylish stage featuring four light panels that looked like neon washboards. He mixed rockers and ballads, conveying a party-boy vibe that kept the crowd fully engaged.
The curly haired singer-guitarist opened with the anthemic "That's How Country Boys Roll," followed by "Why, Why, Why," "I Wanna Be a Hillbilly." "I Got a Feelin' " (prompting an audience singalong) and the rowdy-fun song "Pretty Good at Drinkin' Beer."
Currington kicked off his encore with "Must Be Doin' Somethin' Right," performing alone on the stage before the band returned for an extended set. Songs included "Enjoy Yourself," "Give Me One Reason," "People Are Crazy" and "Let's Get It On," the Marvin Gaye classic done country-style.
The high-flying set came to a close with "Modern Day Country Boy," "Superstition" (Stevie Wonder's hit) and "Good Directions."
The Fair comes to a close this weekend with concerts by Heart (tonight, Sept. 25) and Kid Rock (Sunday, Sept. 26). For details, visit the Puyallup Fair Web site.