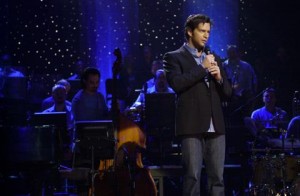 While lounging on the lawn at Chateau Ste. Michelle for a Harry Connick Jr. concert Saturday night (Sept. 25), I started thinking about the airfare I had saved by not having to fly to New Orleans.
The Crescent City bandleader brought the Bourbon Street vibe to the Woodinville winery, all nicely packaged with plenty of good humor and classic songs. It was part of a two-night stand at Chateau that ended the winery's 2010 summer concert series. And so what that it was technically fall. The sunshine and balmy temps made it feel like July.
Backed by more than a dozen musicians on a classy-looking stage, Connick teased late-comers and wine sippers, touting a concoction dubbed "Mango Lemonade" and pointing to a roped-off section where concertgoers drank wine with "screw-off tops." "That's what I grew up to — playing to drunk people," he said amid laughter and cheers.
The show began with such sumptuous tunes as "The Way You Look Tonight," "Smile" and the Beatles' "And I Love Her." Connick was the consummate entertainer, welcoming, funny and technically brilliant, offering songs from his current album, "Your Song."
The New Orleans-bred singer, pianist, composer and actor — who has sold more than 25 million albums — talked about his first big break, singing standards for the soundtrack of the 1989 romantic comedy "When Harry Met Sally." He then offered a tender "It Had to Be You."
He got into a little trouble with fans when he made fun of pop star Justin Bieber, which drew a few good-natured boos, likely from concertgoers whose kids or grandkids are Bierber buffs. But it all blew past like a summer breeze.
When he wasn't singing or playing piano, Connick was a bit chatty — but never annoying. "We're really to the 10 percent point," he teased halfway through the show. "We'll be here until 4 in the morning."
"For Once in My Life" and "You Don't Know Me" were followed by some wonderful barrelhouse blues, boogie woogie and tender piano solos while the nearly full moon rose behind the stage.
Connick's MVP was trombonist Lucien Barbarin of the Preservation Hall Jazz Band. Together, they celebrated the rollicking Mardi Gras sounds that made New Orleans famous.