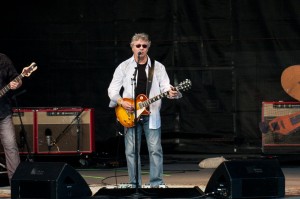 By GENE STOUT
"Space Cowboy" Steve Miller made a smooth landing at Chateau Ste. Michelle, parking his rock 'n' roll mother ship amid a field of high-spirited fans.
With roots dating to the San Francisco scene in the late '60s, the Steve Miller Band is known for songs that are now staples of classic rock radio, among them "The Joker" and "Space Cowboy."
Miller's two-hour concert Saturday, July 16, featured classics from the band's huge catalog of hits, as well as several blues/R&B songs from the group's 2010 album, "Bingo!" (featuring tunes by Howlin' Wolf, B.B. King, Otis Rush, Jimmy Reed and Otis Redding).
Despite the threat of rain, good vibes prevailed at the sprawling outdoor concert venue in Woodinville, home to the state's largest winery. Chateau Ste. Michelle has been offering concerts since 1984; proceeds from the summer concert series go to the winery's charitable contributions program.
Kicking off the show with high-revving versions of "Jet Airliner," "Take the Money and Run" and "Abracadabra," Miller and his band performed a tight, well-paced show that kept the audience fully engaged and entertained. Miller traded lead vocals with soul singer Sonny Charles, a veteran of Indiana's Checkmates, Ltd.
The stage production's visual backdrop featured a cornucopia of guitars that appeared to swirl around band members.
Jessie Hill's "Ooh Poo Pah Doo," Otis Redding's "Tramp" and Bobby "Blue" Bland's "Further On Up the Road" were featured from the "Bingo!" album, adding depth and variety to what might otherwise have been a greatest-hits show featuring such songs as "Fly Like an Eagle," "Living in the USA" and "Gangster of Love."
Miller made a plug for Kids Rock Free, a nonprofit Fender Museum of the Arts program that offers free and low-cost music lessons for children 7 to 17.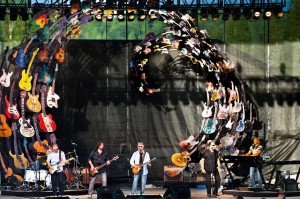 Passionate about music education, Miller invited a young guitarist to the stage to play the lead on "Rock 'N Me." "I'm going to have to fine him $10 if he plays better than me," Miller quipped. It could have been a close call.
Miller, who has lost two band members to cancer (James "Curley" Cooke in May and harmonica virtuoso Norton Buffalo in October 2009), dedicated a song to Buffalo, saying, "I know you're up there in the big room." "Let Your Hair Down," Miller's latest album, features the last songs recorded by Buffalo, Miller's "partner in harmony" for more than 30 years.
The Steve Miller Band closed the show with roaring versions of "Jungle Love" and "Space Cowboy."
(EDITOR'S NOTE: Seattle photographer Jim Bennett is a frequent contributor to GeneStout.com. Visit his website by following this link.)