As if he didn't already have it in spades, country star George Strait has added a little "Twang" to his musical catalogue.
The country star's latest tour with Reba McEntire and Lee Ann Womack, playing the Tacoma Dome Saturday night (March 27), is loaded with songs from his new album, "Twang," including a Norteno-styled song, "El Rey," that he sings in Spanish. The song appeals to the shifting demographics of country music and the growing numbers of Hispanic country fans.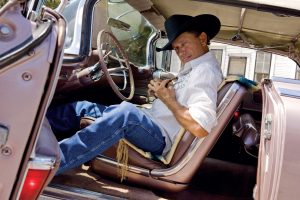 "El Rey," meaning "The King" in Spanish, was penned more than 50 years ago by Mexican songwriter Jose Alfredo Jimenez, dubbed the Mexican Woody Guthrie.
The growing Hispanic market was a panel discussion topic ("Reaching America's Fastest Growing Market") at the recent SXSW music conference in Austin, Texas.
But most of the songs on "Twang" are done in classic style by the Texas troubadour, who has enjoyed a long, steady career at the top of the country heap. Record sales have surpassed 67 million copies.
The first single from the album is "Living for the Night," written by Strait, his son Bubba Strait (George Strait Jr.) and prolific country songwriter Dean Dillon. Bubba, by the way, is a Texas A&M University graduate, as well as a professional rodeo cowboy and team roper.
People talk a lot about authenticity in an industry where anyone can don a hat and look like a "for real cowboy," to quote John Voight in the movie "Midnight Cowboy." But Strait is a successful Texas rancher who is as comfortable on the range as he is on stage (in the late '70s, he earned a degree in agriculture before launching his career in country music). But it's also worth noting that he lives in an expensive gated community in the San Antonio area, so he's not exactly roughing it.
Strait and his son Bubba are members fo the Professional Rodeo Cowboys Assocation (PRCA). Strait has said that he rarely plays a guitar when he's not in the studio or on tour.
In March, lifelong friends Coleman Proctor and Jake Long were chosen grand champions of the 28th annual George Strait Team Roping Classic.
Strait has recorded so many hit songs — "Amarillo by Morning," "Fool Hearted Memory," "The Fireman," "Right Or Wrong," "Ocean Front Property," among many others — that a country bar band could fill an entire evening's sets with his material and not touch anything else.
Incredibly, Strait didn't win his first Grammy Award until last year, when he won best country album for "Troubadour."
Backing Strait is his longtime Ace in the Hole Band, which dates to his college years. Here's a link to Strait's Web site, where you can hear the title song from "Twang."
McEntire, who celebrates her birthday this weekend (March 28), is one of a small number of female artists dubbed "Queen of Country Music." Like Strait, the native Oklahoman's hits stretch back decades. Among them are: "Only in My Mind," "You Lie," "Fancy" and "Fear of Being Alone." Her latest album is "Keep On Loving You." Visit her Web site by following this link.
Womack, who has won two Grammys and sold more than 6 million albums, is performing songs from her current album, "Call Me Crazy." Here's a link to her Web site.
Strait's show begins with a set by Womack at 7 p.m., followed by McEntire at 7:45 p.m. Strait takes the stage at 9:15 p.m. Tickets are $79.50 and $89.50 at Ticketmaster.
You can read my review of Strait's 2007 concert at the Tacoma Dome here.
Here's a video of Strait's version of "El Rey":
And here's a video of the first single from "Twang," "Living for the Night":