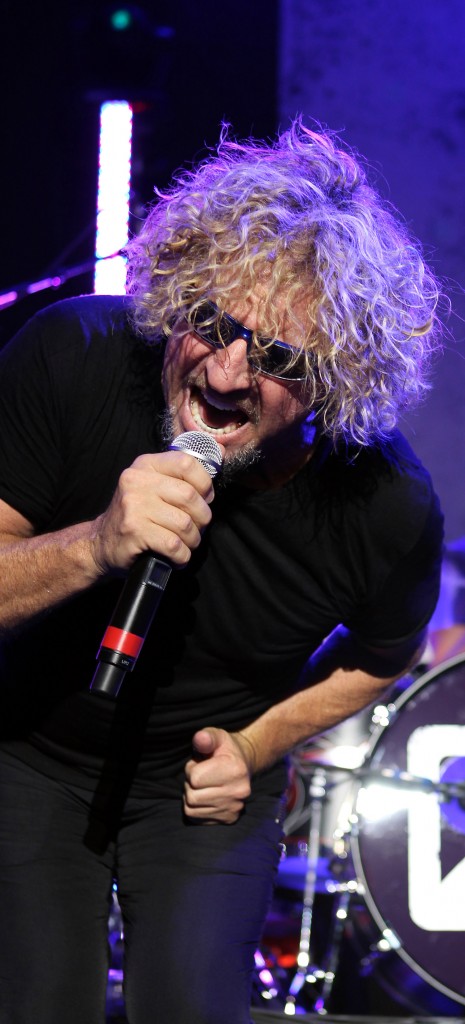 By GENE STOUT
Redheads love Sammy Hager, even if they're bald, blond, brunette or silvery gray.
Like Jimmy Buffett's Parrotheads, Hagar's fans (dubbed Redheads) are party animals with a purpose. Dozens of Hagar fans – some wearing T-shirts that read KIND(RED) – formed a huge cheering section on a riser at the rear of the stage Wednesday, Sept. 14, at the Puyallup Fair grandstand. They pumped their fists and waved their arms during an incredibly loud show that featured a string of hard-rocking songs from Hagar's long career.
Backing Hagar — a veteran of Montrose, Van Halen, Chickenfoot and his own solo career — was his rock trio The Waboritas (or simply Wabos), including drummer David Lauser, bassist Mona Gnader, and guitarist and vocalist Vic Johnson.
Hagar, sporting curly blond hair, a red T-shirt, plaid shorts, dark glasses, red shoes and a red guitar, looked like a beach boy Santa Claus. The stage was splashed with red lighting, and a giant red alien loomed behind the stage. Hagar, who has long loved the color red, reportedly was dubbed the Red Rocker by a Seattle rock critic in the late 1970s after a "Rising Star" concert in Seattle.
The show began with a long, colorful, girls-gone-wild-style video of Hagar's iconic Cabo Wabo Cantina in Cabo San Lucas, Baja California (with additional locations in Las Vegas and Lake Tahoe). Hagar will turn 64 in October, but on stage he was like the eternal party boy, sipping Cabo Wabo Tequila (one might assume) from a martini glass delivered by a female attendant. Clearly, Old Guys Rule.
Hagar opened with such songs as "There's Only One Way to Rock" and the stratospheric "Standing on Top of the World," the latter from the Van Halen (or Van Hagar) era. Hagar wailed his vocal parts like a banshee on steroids and delivered oversize riffs on a series of ruby-red guitars. He also treated the huge crowd to a tasty bit of slide guitar.
"It's been so long, I feel like I should play everything (I know)," he said, referring to a catalog of songs that reaches back to the early '70s. Among other tunes, Hagar played "Three Lock Box," "Right Now," "Heavy Metal" and "Tools to Satisfy."
The main set ended at about 9 p.m. After a quick break, Hagar and the Wabos returned for an encore featuring "Why Can't This Be Love" and his iconic solo hit, "I Can't Drive 55." But, alas, it was time to slow down and send his fans home.
The Puyallup Fair continues through Sept. 25 with a full schedule of grandstand shows. Read a preview of the Fair here.