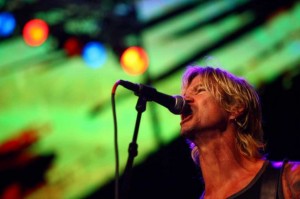 By GENE STOUT
Many of Seattle's grunge-era luminaries gathered Tuesday night, Sept. 20, at the Experience Music Project to celebrate the 20th anniversary of Nirvana's breakthrough "Nevermind" album with a benefit concert for Susie Tennant, who served as local PR queen for Sub Pop Records and DGC Records — and currently for Town Hall.
Tennant, who is undergoing treatment for ovarian cancer, is a beloved member of the Seattle rock community. The concert at EMP's Sky Church was as much a celebration of Tennant's contribution to Seattle rock as it was a tribute to an album that forever changed Seattle – and rock music throughout the world. (Another benefit for Tennant with Dave Alvin and Christy McWilson is scheduled Oct. 11 at the Tractor Tavern.)
Dressed in a grunge-appropriate plaid dress she bought on a trip to Paris, EMP|SFM CEO and director Christina Orr-Cahal said of Tennant, "You are deeply loved in this (music) community."
The Fastbacks, with Kurt Bloch on lead guitar and Kim Warnick on bass and lead vocals, kicked off the evening with "Smells Like Teen Spirit," the explosive hit single from "Nevermind" that turned rock 'n' roll on its ear. A succession of bands and musicians followed, each playing a song from "Nevermind."
Among them were The Presidents of the United States of America (with Nirvana's Krist Novoselic on bass), The Young Fresh Fellows, Visqueen, Duff McKagan, Vendetta Red, The Crypts, Tacocat, Ravenna Woods, the Cali Giraffes, Seacats, Campfire OK, Nirvana producer Jack Endino (with his band Valis), the Long Winters and others, spanning two generations of Seattle music. There were unexpected performers as well, among them Seattle hip-hop group Champagne Champagne.
A huge video screen provided an explosively colorful backdrop for the show. (Former Nirvana drummer Dave Grohl used it to delivered a video greeting to the crowd.)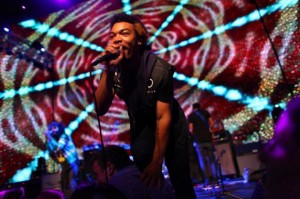 For those who had experienced first-hand the Seattle rock explosion of the late '80s and early '90s, it was a chance to band together and re-live an unforgettable period of Seattle's music history.
Longtime Alice in Chains and Soundgarden manager Susan Silver had high praise for Nirvana's Krist Novoselic, as well as Pearl Jam and other bands, for giving back to the music community and supporting important causes. "They took their power and did good things with it," she said.
Novoselic looked solemn when he took the stage to perform with the Presidents. "Thanks for caring," he said. He then asked for a shout-out for Kurt Cobain, which brought a huge cheer from the crowd. "I think you said it all," he responded.
Watch a video stream of the entire concert here.
A variety of events are scheduled to coincide with Nirvana's 20th anniversary. Read about them here.
Also, read my retrospective feature story on Nirvana's 10th anniversary in 2001.
To make a donation to the help Tennant with her medical expenses, follow this link. All funds raised will help with medical expenses and family support throughout Susie's extended cancer treatment.