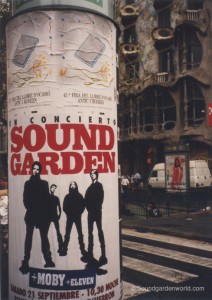 A reunited Soundgarden is expected — or rumored — to play tonight (April 16) at Showbox at the Market
Whether it's a private or public show remains to be seen. News could come at any moment. So far, the calendar at the Showbox Web site is blank for April 16.
The show would be a warmup for the group's August performance at the Lollapalooza festival in Chicago.
The reunited band features singer Chris Cornell, guitarist Kim Thayil, bassist Ben Shepherd and drummer Matt Cameron, who is now a member of Pearl Jam. The band will tour the United States in May; here's the schedule.
I don't expect the reunion to be a longterm enterprise. In fact, Lollapalooza may be the band's only big performance. I've also heard the band received a seven-figure sum to reunite for Lollapalooza, but haven't been able to confirm it.
And I wouldn't hold my breath for a new album from the band, which split up in April 1997. Read my story here.
Tomorrow (April 17), as part of National Record Store Day, the band will re-release "Hunted Down" (backed with "Nothing to Say"), its first seven-inch vinyl single. The single was originally released in 1987 on Sub Pop Records.
Billboard.com posted a story this week on the Seattle show. Read about it here.
Follow this link to the Web site for the Soundgarden reunion.
By the way, here's a backstage story I posted on Chris Cornell in 2007. "I love them all," Cornell said of his estranged bandmates at the time.