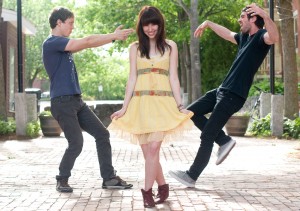 By MIKEL TOOMBS
The Narrative adds a different storyline to the emo sound with the decidedly feminine presence of singer-keyboardist Suzie Zeldin (isn't there a law against this? Or some clubhouse rule?).
At its prettiest, the Craigslist-initiated, N.Y.C.-based trio tends toward, oh, "tweemo" (I truly hope that's not a recognized subgenre), but there's a lot that's seasonally affecting about this young band, whose Dec. 1 show at El Corazon has been canceled, as its tour supporting The Secret Handshake was just cut short.
The Narrative's debut long-player, "The Narrative," features the inviting "Winter's Coming" and "Don't Want to Fall" ("We woke the neighbors/It's no wonder they hate us/On every single floor"). Put on your Cardigans.
Watch a video of "Don't Want to Fall" by following this link.
(Mikel Toombs is a frequent contributor to GeneStout.com. Read his recent preview of Auburn, Wash., duo He Is We.)