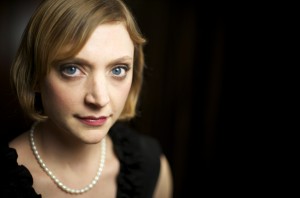 By MIKEL TOOMBS
Eilen Jewell earns another retro grade "A" with her new album, "Queen of the Minor Key."
Eilen fans (rhymes with "ceilin' fans") — and there are enough of them to earn the Boise-bred, Massachusetts-based singer-songwriter the headlining spot Friday, Aug, 5, at Seattle's Tractor Tavern — should be delighted at the high-shelf blues here.
Meanwhile, newcomers will discover an intriguing cross between Gillian Welch (the two sound as if they would be at home in a more vintage era) and Lucinda Williams. And if you detect a strong kinship with Billie Holiday in Jewell's under-slung vocals, well, you're not the "Only One."
Jewell also betrays an acknowledged debt to Bob Dylan on the harmonica-braced "Santa Fe" (here it takes two train lines, the Southern and the Santa Fe, to cry) and might have earned the title of "Queen of Rockabilly," if Wanda Jackson hadn't already claimed it, with "Bang Bang Bang" (shades of Janis Martin's "Bang Bang") and the title song.
Watch the video of "Bang Bang Bang" here.
(EDITOR'S NOTE: Mikel Toombs is a frequent contributor to GeneStout.com. Read his recent review of Star Anna's new album here.)