By GENE STOUT
It isn't hard to imagine U2 as the first band to play outer space.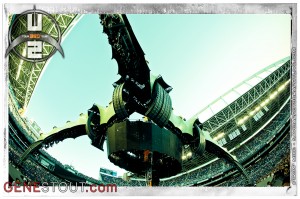 Not after seeing the Irish supergroup's rocket-powered concert Saturday night, June 4, at Seattle's Qwest Field. They've conquered the world, so why not the moon and stars? They've certainly earned enough money from the 360 Degree Tour – the highest-grossing in concert history — to launch an extraterrestrial concert, maybe even a rock-star rapture.
The world's top touring band could have blasted off just on the fumes it emitted during a more than two-hour set in front of more than 60,000 rabid fans, many of whom waited a year to see the group after it canceled a June 2010 show at Qwest after Bono had injured his back.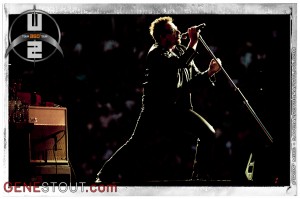 There were all kinds of space themes in the eye-popping show. First of all, the giant, four-legged structure that forms an enclosure for the stage was dubbed the Space Station by Bono (it's also known as The Claw).
The towering structure was inspired by the Theme Building at Los Angeles International Airport, but also resembles one of the invaders in "War of the Worlds." The imposing structure featured a dazzling spire (resembling a giant, lighted Christmas tree topper) and a cylindrical, 94-ton LED video screen that provided dramatic close-ups of the four members of U2, as well as opener Lenny Kravitz and his band.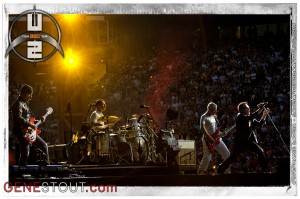 U2's set opened at 9 p.m. with "Even Better Than the Real Thing," "I Will Follow," "Get On Your Boots" and "Magnificent." During "City of Blinding Lights," the colorful spire looked like a Titan rocket taking off. The Edge's distinctive, metal-toned guitar brought a special excitement to "Where the Streets Have No Name," which included a few lines from Carole King's "Will You Still Love Me Tomorrow." Contained below the stage but within its perimeter was a VIP area for several hundred fans, who got a front-row view of the performance.
As U2 members Bono, guitarist the Edge, bassist Adam Clayton and drummer Larry Mullen strolled onto the stage, David Bowie's "Space Oddity" played on the loudspeakers: "Ground control to major Tom/ take your protein pills and put your helmet on. . . ."
During a soaring "With Or Without You," lead singer Bono used a curious microphone that looked like a glowing-red, space age steering wheel. Hanging from a cable, it was strong enough for Bono to swoop across the stage as if on a tire swing.
After cartoon aliens cruised the galaxies in a comic video, the charismatic Bono, during closing song "Moment of Surrender," asked that concertgoers hold up their lighted cell phones to simulate the Milky Way. The effect was quite amazing, though it wasn't the first time concertgoers had been asked to hold up cell phones – the modern-day equivalent of the cigarette lighter. Bono dedicated the song to "all the people trying not to fall off the planet."
The most surprising "space" moment came when Commander Mark E. Kelly of the Endeavour crew delivered a video greeting to the audience after Bono dedicated "Beautiful Day" to his wife, Arizona Congresswoman Gabby Giffords, saying, "Imagine a man looking down on us from 200 miles up. Looking down at our beautiful, crowded planet. What would he say to us? What is on your mind, Commander Kelly?"
Kelly, on a 16-day mission with the Endeavour crew, had recorded the message aboard the International Space Station. "Hello Seattle, from the International Space Station," he said before quoting a few words from David Bowie's "Space Oddity": "I'm looking forward to coming home. Tell my wife I love her very much. . . She knows."
In a set that featured such signature songs as "Mysterious Ways," "Pride (in the Name of Love") and "Sunday Bloody Sunday" (dedicated to the Arab uprisings). Bono also talked about the challenges earthlings face in regard to war, political strife, human rights, natural disasters and other travails. The message: U2 may be on top of the world, but the world is a shaky place.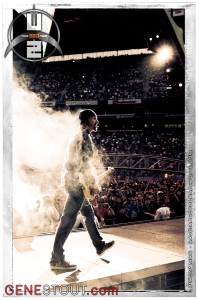 Burmese political prisoner Aung San Suu Kyi, who had been elected president of Burma and then held under house arrest for more than a dozen years, delivered a statement in a video: "When you raise your voices we hear them in our country and around the world, they are louder than any rock band, than any army, than any rocket fire or fighter jet."
The message preceded an inspiring version of "One," which is often used to promote social justice and human rights causes and Bono's charitable organization, the ONE Campaign. And then there was the poignant and unnerving "Miss Sarajevo," which Bono has called his favorite U2 song; the video showed beauty pageant contestants holding up a banner reading, "Don't Let Them Kill Us."
Bono saluted Bill and Melinda Gates for their humanitarian work, describing them as an inspiration for his own humanitarian campaigns. Reminders of the work of Amnesty International were displayed in the production.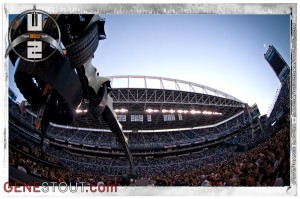 The singer-guitarist made wistful references to the band's trips to Berlin, where the band recorded "Achtung Baby" in the early 1990s; and to Joshua Tree National Park, showing an image of the Harmony Motel where the band stayed while working on its "Joshua Tree" album.
Other than space and humanitarian themes, Bono celebrated the day's spectacularly sunny weather and skyline, saying, "The city looked like it had come out of a washing machine and (had been) hung out on a clothesline. It looked brand-spanking new." The song "Beautiful Day" certainly summed up the sentiment and could have been the official theme song of the Qwest show.
During "Mysterious Ways," kaleidoscopic images of a nude dancer gyrated on the LED screen. Band members took advantage of the enormous, circular stage, prancing around its circumference. The entire band took a walk around the stage during "I'll Go Crazy If I Don't Go Crazy Tonight," one of many explosive moments in the lavish concert.
In the show's final moments, I almost expected a booming announcement from NASA: "We have lift-off!"
Opening act Lenny Kravitz delivered the best sets I have ever seen by the New York-bred R&B artist, despite problems with his ear-monitors, which were clearly frustrating for the singer-guitarist.
Backed by a band that included three female singers, Kravitz commanded the giant stage with such songs as "Come and Get It," "Mamma Said," "It Ain't Over 'Til It's Over," "Let Love Rule." A whipped-up version of the Guess Who's "American Woman" was a nice touch. Kravitz closed with signature songs "Fly Away" and "Are You Gonna Go My Way."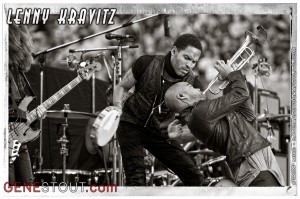 Seattle rock photographer Mike Savoia took the accompanying photos of U2 and Kravitz at Qwest Field (save for one exterior shot of Qwest Field taken by his wife, Stephanie Savoia). For greater photographic detail, right click on each photo and select "open link." Visit Savoia's Web site here.
For more photos from a June 3 press conference at Qwest Field, click on this link.
Here's the U2 concert set list:
Space Oddity
Even Better Than the Real Thing
I will Follow
Get On Your Boots
Magnificent
Mysterious Ways
Elevation
All I Want Is You
Stay (Far Away, So Close!)
Beautiful Day
Pride (in the Name of Love)
Miss Sarajevo
Zooropa
City of Blinding Lights
Vertigo
I'll Go Crazy If I Don't Go Crazy Tonight
Sunday Bloody Sunday
Scarlet
Walk On
Encores:
One
Where the Streets Have No Name
Hold Me, Thrill Me, Kiss Me, Kill Me
With Or Without Me
Moment of Surrender