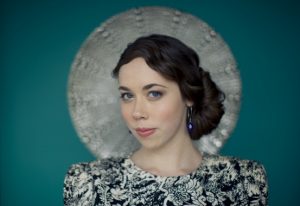 By MIKEL TOOMBS
I once had the distinct pleasure of witnessing Jewel get kicked out of a bar at which she would soon perform.
No, the incident wasn't satisfying because the then-underage singer was in any way annoying (that would come later), but because it confirmed just how quickly her appeal had grown.
Today, Sarah Jarosz is in much the same situation. Having turned 20 last month, the singer-songwriter and multi-instrumentalist already is headlining Seattle's 21-and-up Tractor Tavern; she appears Sunday, June 12, at the venerable roots-music venue.
Jarosz made a Northwest connection on her first album, the '09 (she'd recently graduated from high school in Texas) "Song Up in Her Head," with her compelling cover of the Decemberists murder ballad "Shankill Butchers."
Now a student at the New England Conservatory, she's created a heady followup, "Follow Me Down" (Sugar Hill Records). Jarosz' delicate playing (on mandolin, guitar and clawhammer banjo, among others) and warm vocals recall Alison Krauss and Union Station, the renewed bluegrass sound of Nickel Creek and even The Beatles (her "Norwegian Wood"-y "Here Nor There"); the topflight backing includes fellow mandolinist Chris Thile, former Nickel Creeker and current Punch Brother, and members of Union Station.
And speaking of Northwest connections: "Since the very first day of my collaboration with Rosanne Cash," longtime producer and onetime husband Rodney Crowell writes at the beginning of his liner notes to the just-released "The Essential Rosanne Cash" (Legacy Recordings), "I've been held in thrall by the sound of her voice, (whose) tonality, projected three-and-a-half decades into the future, still puts me in mind of the rain-soaked timberlands of the Pacific Northwest."
Perhaps that's why Cash chose Seattle's Moore Theatre a year ago to preview her most recent album of new (OK, old) material, "The List," for NPR. (Or perhaps not.)
To make a long story (and album; it's a two-CD set) short, "Essential" is just that. It tracks the wonderful singer-songwriter from her Germany-only '78 debut album to "The List," whose, well, essential songs, including "Sea of Love" (a duet with Bruce Springsteen) and Mickey Newbury's "Sweet Memories" (featuring Chris Thile), were all suggested long ago by her dad, Johnny Cash.
(EDITOR'S NOTE: Mike Toombs is a frequent contributor to GeneStout.com. Read his previous story on Rosanne Cash here.)