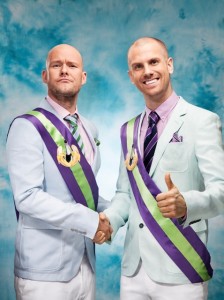 By MIKEL TOOMBS
The first rule of Pillow Fight Club: Don't talk about Pillow Fight Club.
"Having broken a Guinness World Record for the largest pillow fight in history" (history, mind you), according to the DJs' press materials, Dada Life obviously broke that rule, leading the "Swedish Government" to revoke their passports (none too successfully, it seems).
Well, OK, maybe it was more likely due to "the duo establishing their own sovereign nation in 2013, Dada Land."
Personally, I think it was because Dada Life decided to collaborate with Skid Row ex-front man Sebastian Bach (on "Born to Rage") and in anticipation of a July 19 Southern California (San Bernardino!) appearance, the "Dada Land: The Voyage" tour opener, where the Swedes will arrive via hot-air balloon.
Check out the duo's upcoming U.S. shows on the official Dada Life website here. Tickets can be purchased via this link.
(EDITOR'S NOTE: Mikel Toombs is a frequent contributor to GeneStout.com. Read his recent story on the "Muscle Shoals" documentary and Drive-By Truckers here.)