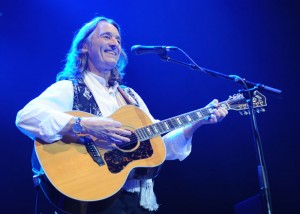 Snoqualmie Casino has announced its outdoor summer lineup the Mountain View Plaza, opening with Roger Hodgson (of Supertramp fame) July 3 and featuring such music acts as Kool and The Gang, Dwight Yoakam, Cheap Trick, Lynyrd Skynyrd, Bret Michaels, Loverboy and Beach Boys.
All shows are scheduled at the Mountain View Plaza, with expansive views of the Snoqualmie Valley and the Cascades. The venue features a beer garden, full bar, food concessions and free parking. The 2,300 seat plaza also has VIP boxes with attendants. All shows are 21 and up.
Snoqualmie Casino boasts six restaurants, lounges and bars and 52,000 square feet of gaming space less than 30 minutes from downtown Seattle. Tickets go on sale on May 10. For more information on these and other events at Snoqualmie Casino, go to the website here
Roger Hodgson: The "voice of Supertramp" brings his classic hits "Give A Little Bit" and "Dreamer" to the Mountain View Plaza. When: Thursday, July 3, 2014 at 7 p.m. (Visit Hodgson's website here for videos and additional information about the co-founder of Supertramp.)
Kool and The Gang: This dynamic group, known for their hit single "Celebration," performs a mixture of jazz, R&B, soul and funk. When: Saturday, July 5, 2014 at 7 p.m.
Dwight Yoakam: This singer-songwriter brings his unique brand of country music and considerable accolades, including a Grammy for "Ain't That Lonely Yet." In 2007 Yoakam received the CMA's International Touring Artist Award and has sold over 25 million records. When: Sunday, July 6, 2014 at 7 p.m.
Happy Together — The Turtles, Mitch Ryder and the Detroit Wheels, Mark Farner, Gary Lewis and Chuck Negron: These classic rock legends join forces bringing some of the greatest sixties music to Mountain View Plaza. When: Friday, July 11, 2014 at 7 p.m.
Bill Engvall: One of the original members of the Blue Collar Comedy Tour, comedian Bill Engvall is known for his causal humor and "Here's Your Sign" bit. When: Sunday, July 13, 2014 at 7 p.m.
Cheap Trick: Blending elements of pop, rock and even metal, seventies rock band Cheap Trick is one of the most covered bands of all time. When: Thursday, July 17, 2014 at 7 p.m.
Bret Michaels: The American singer-songwriter claimed fame as the lead vocalist of glam metal band Poison with the number-one single "Every Rose Has Its Thorn." Bret Michaels went on to produce several solo albums and appear in a host of reality television shows. When: Thursday, July 24, 2014 at 7 p.m.
Loverboy: Based in Vancouver, the Canadian classic rock group Loverboy has earned four multi-platinum albums and sold millions of records across North America. When: Sunday, July 27, 2014 at 7 p.m.
Deep Purple: English-born band Deep Purple is considered to be among the pioneers of heavy metal and modern hard rock. When: Sunday, August 10, 2014 at 7 p.m.
Lynyrd Skynyrd: These rock legends will be bringing their southern hard-rock of the '70s. When: Wednesday August 13, 2014 at 7p.m.
Huey Lewis and the News: An American pop-rock band based in San Francisco, the News brings rock with soul and doo-wop influences. When: Thursday, August 14, 2014 at 7 p.m.
Leann Rimes: Known for becoming the youngest country music star since Tanya Tucker, American country and pop singer Leann Rimes has released more than 10 studio albums and greatest hits albums, and has won multiple Grammy awards and Academy of Country Music Awards. When: Wednesday, August 20, 2014 at 7 p.m.
The Beach Boys: The legendary Southern California rock band brings "Good Vibrations" to the Mountain View Plaza for the ultimate summer celebration. When: Saturday, August 30, 2014 at 7 p.m.