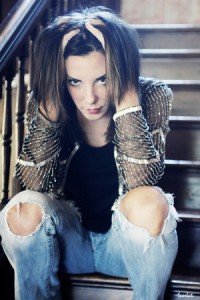 By GENE STOUT
Longtime fans will know Susan Ruth as Susan Robkin, a Seattle singer-songwriter with an unforgettable voice and open-hearted spirit.
Her songs come from a deep place in her psyche and soar with gentle determination.
She recorded her first album, the never-released EP "All Those Years," in 1997, then moved to Nashville the following year to begin a new chapter in her music career, as well as her own label, Mouse and Bear Music. Her debut LP, "Horse of a Different Color," was followed by "How to Say Goodbye" and "Surfacing to Breathe," featuring several members of Peter Gabriel's band.
After a decade-long hiatus, Ruth has finally released her fourth studio album, "All I Ever Wanted Was Everything," featuring the debut single "Lonely," and a dozen other songs.
The album was co-produced by Ruth and Jim Kimball, known for his work with Reba McEntire, Faith Hill, Tim McGraw, Toby Keith, Justin Timberlake, Kelly Clarkson and many other artists.
The meticulously produced and recorded pop-rock album features a large crew of talented players (some from McEntire's band), among them Kimball on acoustic guitars and mandolin, Tommy Harden on drums and percussion, Spady Brannon on bass, Jeff King on electric guitars, Smith Curry on dobro and lap steel, Jason Webb on piano, organ and synthesizer; and Travis Thibodaux on background vocals on "Lonely."
"Lonely" is a powerful, heartfelt song that features the lyric, "When you wake up tomorrow, will you still be lonely?" Ruth sings in a strong, clear voice, and her songs express adult themes with courage and self-confidence.
Ruth celebrated the album's mid-July release with local fans at the Triple Door. The next listening party is Wednesday, July 23, at Alegria's Tequila Bar in Nashville.
Here's a partial video of "Your Last Goodbye" from a recording session: