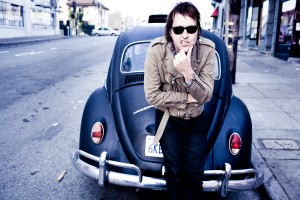 By GENE STOUT
Singer-songwriter Chuck Prophet, formerly of the celebrated roots-rock band Green on Red, will release his 13th studio album, "Night Surfer," Sept. 23 on Yep Rock Records.
Among the players on the rootsy new album, featuring the lead single "Wish Me Luck," is Seattle resident Peter Buck of R.E.M.
As part of his summer tour leading up to the release, Prophet will play five Northwest shows, including a free concert at noon Aug. 6 at Two Union Square in Seattle and another that night at the Green Frog Café Acoustic Tavern in Bellingham, as well as Aug. 7 at the White Eagle in Portland, Aug. 8 at the Tree House Café on Bainbridge Island and Aug. 9 at Slim's Last Chance in Seattle. A fall tour will be announced later.
"Night Surfer" was recorded in Prophet's hometown, San Francisco, and in Nashville. The new album follows Prophet's 2012 release, "Temple Beautiful."
"This record is loosely conceptual but universal all the same," Prophet says. "It's all about a path forward, about looking around and imagining where we'll be in 20 years if we just follow that path. And of course, you'll find a persistent anxiety throughout; we live, after all, in anxious times.
"As John Murry told me after a first listen, 'It brings a tear to the eye and blood to the johnson.' So yeah, a new record, new sound. It's got its own groove with in-your-face guitars that snake and harmonize. They jangle too, thanks in no small part to special guest Peter Buck."
The lead single made its debut on The Wall Street Journal's Speakeasy A&E website. Read Jim Fusilli's story here.
Prophet began his music career at 18 with Green on Red. He has since collaborated with such artists as Kelly Willis, Lucinda Williams and the late Warren Zevon. He also co-wrote all the songs on Alejandro Escovedo's 2008 album "Real Animal."
Prophet's music has been featured in HBO's "True Blood," Showtime's "Californication" and FX's "Sons of Anarchy."
Visit Prophet's website here.