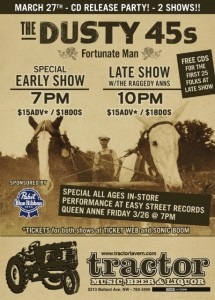 "Fortunate Man," the Dusty 45s' first studio album in five years, will officially launch with live shows this weekend.
The first is an "in-store preview" at 7 tonight (March 26) at the Queen Anne Easy Street Records, where is admission is free.
But the really big shows are at 7 and 10 p.m. Saturday (March 27) at the Tractor Tavern. Tickets are $15 at TicketWeb or $18 at the door. The Raggedy Anns open the second show.
The titans of twang — one of Seattle's favorite roots-music bands — blend various styles, from honky-tonk and swing to straight-ahead rock, on the new album.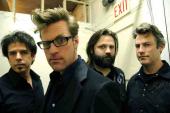 Three original songs from the new album are already crowd favorites at live shows: "Walking in the Rain," "River From My Eyes" and title track "Fortunate Man." Singer-guitarist and frontman Billy Joe Huels has turned his personal stories into songwriting gems.
Huels (pronounced "Hills") plays a '65 Gibson steel-string guitar, but usually whips out his battered trumpet for a show-stopping finale, setting the horn ablaze.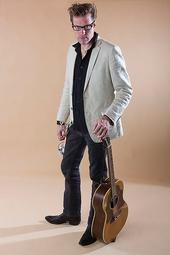 In addition to Huels, the band includes Jerry Batista on lead guitar and vocals; Kelly Van Camp on drums, harmonica and vocals, and Jeff Gray on upright bass and vocals.
The Dusty 45s have sold more than 20,000 albums (all independently released) and have performed from coast-to-coast and even performed for President Barack Obama during his campaign.
To read more about the Dusty 45s, follow this link to the band's press page. Or go to the band's MySpace page here.