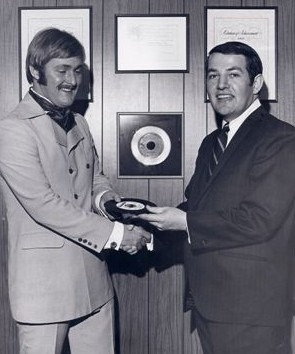 By GENE STOUT
Raised on the Oregon coast, Jerry Dennon became one of the legendary personalities of early Northwest rock – not as a musician, but as a record promoter who played a key role in making The Kingsmen's version of "Louie Louie" a huge success.
In the mid-'50s, Dennon was hired by Portland's BG Record Service "to push records to area shops and radio stations," according to an essay by Peter Blecha on HistoryLink.org.
"Dennon had proven to be a natural at promoting the indie records that BG distributed, and before long he was cruising around the region in a flashy white T-Bird, meeting and greeting the staff at radio stations. Dennon knew every radio station's program director and soon found that he could turn just about any decent record into a solid regional hit."
Dennon is now the subject of a new DVD titled "Louie Louie and the History of Northwest Rock & Radio," tentatively due to be released March 15 by SoundWorks USA, Inc., a multi-media entertainment, manufacturing and content company based in Redmond, Wash.
With Northwest singer-songwriter Bonnie Guitar, Dennon formed Jerden Records (using the first three letters of his first and last name). In 1963, Jerden released the now-legendary Kingsmen single, "Louie Louie," the most popular version of a 1955 Richard Berry song that became one of the most frequently recorded songs of rock 'n' roll. (The song is ranked No. 55 on Rolling Stone magazine's list of "The 500 Greatest Songs of All Time.")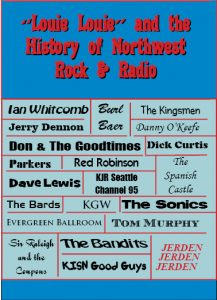 Dennon succeeded in getting "Louie Louie" airplay on the East Coast, leading to explosive interest from rock 'n' roll stations across the country and turning the song into a "global garage-rock phenomenon," in the words of Blecha.
The DVD chronicles the early days of Seattle rock history through Dennon and such radio personalities as Dick Curtis, Tom Murphy, Burl Barer and Red Robinson.
SoundWorks owns thousands of Dennon's recordings, including the Jerden Records catalog of the 1960s and songs by The Kingsmen, The Sonics, Dave Lewis, Ian Whitcomb, The Bards, The Springfield Rifle, Don & the Goodtimes, The Hudson Brothers, Danny O'Keefe and others.
Read the entire HistoryLink essay on Jerden Records here. And visit the SoundWorks site for information about its entire catalog of releases, among them albums by Dave Lewis, Don & the Goodtimes and The Sonics, as well three volumes of Northwest rock 'n' roll covering "the Northwest sound," "garage years" and "psychedelic Seattle."
There's also a "Louie Louie Collection: Best of the Northwest" album, featuring 11 different versions of the song by Northwest performers, from The Kingsmen to the University of Washington Husky Marching Band.
Today, Dennon owns Montcalm, a boutique media brokerage and investment banking firm based on Bainbridge Island. Visit his website here.