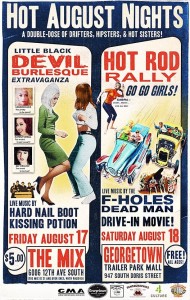 By GENE STOUT
Are you a trailer park queen? Or king?
Georgetown's "Hot August Nights" Aug. 17-18 promises a weekend of hot rods, burlesque, drive-in movies, go-go dancers and live rock 'n' roll.
The weekend begins with the Little Black Devil Burlesque Extravaganza Aug. 17 at the Mix, 606 12th Ave. S. Bands include Kissing Potion and Hard Nail Boot. Admission is $5 for those 21 and up.
The fun continues at with a hot rod rally, live music and drive-in movie at 5 p.m. Aug. 18 at the Georgetown Trailer Park, 947 S. Doris St.
An all-ages rock 'n' roll show features Dead Man and the F-Holes, as well as go-go dancers and a screening of "Two Lane Blacktop," a 1971 road movie starring James Taylor, Warren Oates and the late Dennis Wilson of the Beach Boys (the movie was filmed on old Route 66, offering a time capsule of a bygone era). Watch from your vintage ride; admission is free.