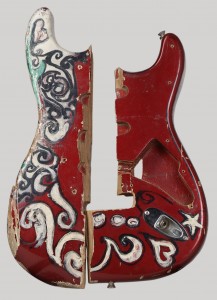 By GENE STOUT
It's hard to believe that Jimi Hendrix would have been 70 in November. He seems forever frozen in time as a 27-year-old guitar god.
To mark the milestone and celebrate his legacy, EMP Museum will launch a new exhibit, "Hear My Train a-Comin': Hendrix Hits London," opening Nov. 17.
Endorsed by Experience Hendrix LLC, the exhibit will focus on the guitar icon's arrival in London in September 1966, his success on the British pop charts and his eventual return to the United States in June 1967 for an explosive performance at the Monterey International Pop Festival.
"Jimi Hendrix surmounted racial and cultural barriers in America and Great Britain at a time when youth culture, pop music, and society were radically changing," said EMP Senior Curator Jacob McMurray. "One of the most innovative musicians of the 20th century, Hendrix continues to influence an ever-increasing number of musicians, artists, and fans in the 21st century."
"Hendrix Hits London" includes more than 100 artifacts: rare costumes, instruments, photographs, albums and other items from EMP's massive Hendrix collection, along with never-before-seen artifacts from the estate of Jimi Hendrix Experience drummer Mitch Mitchell. The 2,500-square-foot exhibit is the first of its kind to focus on Hendrix's London reception. In collaboration with Experience Hendrix LLC, EMP also will offer commemorative programs and events throughout the year to mark milestones in Hendrix's life.
Among the artifacts are handwritten lyrics for "Love or Confusion," written by Hendrix in November 1966 and released the following year on his debut album, "Are You Experienced"; shards from the guitar Hendrix smashed at his famous performance at London's Saville Theater on June 4, 1967; custom tailored jackets by Dandie Fashions, an enterprise that the Beatles later transformed into Apple Tailoring; and a western-style hat and purple scarf worn by Hendrix for the cover of The Jimi Hendrix Experience's "Smash Hits" album.
The guitar fragments shown in the photo above are what remains of the hand-painted Fender Stratocaster that Jimi Hendrix smashed at the end of his second show at the Saville Theatre on June 4, 1967.
Disc & Music Echo magazine reported on the concert finale: "Then, to a smashing, ear-splitting 'Are You Experienced' Jimi was handed a guitar from the wings—a guitar he'd painted in glorious swirling colors and written a poem on the back dedicated to Britain and its audience. Bathed in a flickering strobe light, he crashed the guitar about the stage and hurled what was left of it to the eager souvenir hunters in the audience."
For more information about the EMP Museum, visit the official website here.