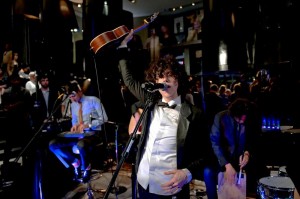 By GENE STOUT
With ukulele in hand, fast-rising Los Angeles recording artist LP made a stop May 10 at Seattle's W Hotel for a Symmetry Live concert at the hotel's newly remodeled Living Room performance space.
An overflow audience gathered in the lobby to hear songs from LP's new album, "Into the Wild (Live at EastWest Studios)."
LP, who will return to Seattle to perform Sept. 3 at the Bumbershoot Festival, was introduced by Global Music director Michaelangelo L'Acqua, who curates the Symmetry Live concert series offering W Hotel guests a chance to experience up-and-coming artists in an intimate setting.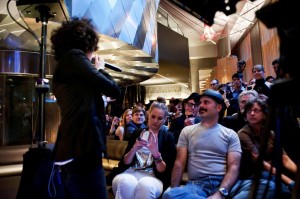 LP (born Laura Pergolizzi in New York) was a breakout performer at this year's SXSW music conference in Austin, Texas. And Esquire magazine picked her as one of its Artists to Watch in 2012. Despite her diminuitive stature, LP is an impressive artist with a powerful, captivating voice and a nice touch on the ukulele.
Last summer, LP co-wrote "Afraid To Sleep," which was performed by Northwest singer Vicci Martinez on NBC-TV's "The Voice." The song reached No. 10 on iTunes Top Singles Chart.
On hand to take photos was renowned photographer Mick Rock, dubbed "The Man Who Shot the Seventies." His subjects include Queen, Syd Barrett, Iggy Pop, Debbie Harry and David Bowie (as Ziggy Stardust).
Also taking photos was Seattle photographer Suzi Pratt, an occasional contributor to GeneStout.com. Visit her website here.
LP's music and videos can be found at her official website. And learn more about W Hotels here.