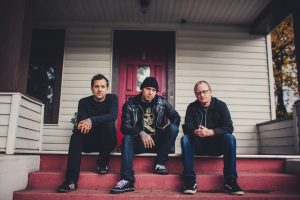 By GENE STOUT
Bremerton-based punk-rock trio MxPx will kick off its 20th anniversary tour with a cancer-benefit show Saturday, May 26, at El Corazon. Sharing the stage are Amber Pacific and Poorsport.
A portion of the proceeds from the show will go to the Hope Tote Program created by Seattle nonprofit Thrive Through Cancer, a new organization created by young adults, for young adults, that is working in partnership with the Swedish Medical Center Foundation. Money raised will help provide newly diagnosed cancer patients with "Hope Totes," bags filled with items intended to provide hope and comfort.
MxPx is touring in support of its ninth studio album, "Plans Within Plans" (MRI/ Rock City Recording Company). The tour features songs from the new album, as well as plenty of songs from the band's two-decade career.
Doors open at 7 p.m. Tickets for the all-ages show are $15. For more information about the tour, visit the band's website here.
Read more about Thrive Through Cancer and its founder, Rose Egge, here.