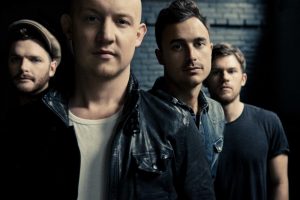 Will the success of "Heartbeat" give The Fray's new album a strong pulse?
"Scars & Stories" makes its debut at No. 4 on The Billboard 200 album chart for Feb. 25 largely on the strength of the soaring debut single.
The Denver-based rock band, formed in 2002 by two high school friends, celebrated the release of "Scars & Stories," its third album, with appearances on "The Today Show," "The Late Show With David Letterman," "Rachel Ray Show," "The Tonight Show With Jay Leno" and "Live From the Artists Den."
Now you can see the group perform live in Seattle on Tuesday, Feb. 28, at the Paramount Theatre as part of its current tour, which opened Feb. 16 at the House of Blues in San Diego.
The new album is available in two versions on iTunes, regular and deluxe. The latter includes five bonus tracks of covers of the following songs: Bruce Springsteen's "Streets of Philadelphia," Emmylou Harris' "Boulder to Birmingham," Annie Lennox's "Why," the Fugees' "Ready Or Not" and the Yeah, Yeah, Yeahs' "Maps."
"Heartbeat" has been inching up Billboard's Hot 100 singles chart and is sitting at No. 42 this week.
"That song came out of a period in my life when I was trying hard to be open to whatever came my way," says lead singer Isaac Slade.
"I traveled through South Africa and Rwanda with a buddy, and at first it was really hard to stay open in the face of so much pain and heartache. But then I ended up meeting so many cool and inspiring people. And all these ideas for lyrics and melodies just started rushing in."
The album was recorded at the storied Blackbird Studio in Nashville, with famous rock producer Brendan O'Brien, who has worked with Pearl Jam, Neil Young and Springsteen, among many others. O'Brien worked his magic, helping the band create a powerful collection of songs.
Watch the video of "Heartbeat," filmed on a beach north of Malibu, Calif., by clicking on this link.
Scars on 45 opens the show at 7:30 p.m. Tuesday at the Paramount Theatre, 911 Pine St. Tickets are $36, or $41.25 day of show. To order call (877) 784-4849 or visit the STG Presents website.