Rock guitarist Joe Satriani played the Snoqualmie Casino Ballroom Saturday, Jan. 8, with his globe-trotting band — and Seattle photographer "Iron Mike" Savoia was there to capture the action on stage.
Satriani, who sat in with the Jay Leno's "Tonight Show" band in late November, recently released his "Essential" double CD album as well as a video of "Light Years Away." The hard-rock guitar virtuoso and his band kicked off the set with "Ice 9," "Hordes of Locusts" and "Flying in a Blue Dream." The high-powered show closed with "Summer Song."
Satriani, a former guitar instructor whose students included Steve Vai and Kirk Hammett, among many others, posted the following comment about "Essential" on his Web site:
"This collection represents a 25-year journey composing, playing and recording rock guitar instrumental music, with a vocal or two thrown in for good measure. Selecting the tracks was at first a daunting task, with over 170 songs to choose from, you can imagine the difficulty.
"During the selection process, I started to feel that artists shouldn't be the ones to pore over their work like this. It's better to be looking forward, always searching for what lies ahead. Then I asked myself, 'Is this a "Greatest Hits" or an "Anthology" collection?' There is a difference.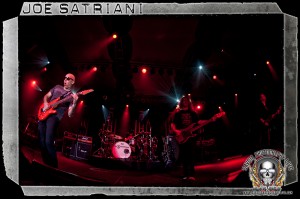 "However, in this case, it turns out to be both — a collection of songs for the hard-core fan, as well as the casual listener. I know this because we turned to the very people who know my music best to compile it, the online fans at satriani.com.
"With thousands of replies from our questionnaire regarding the 'Anthology' collection, we compiled a master track list from which we could extract an awesome collection of songs, and exercise a little editorial control as well. In the end however, their message was loud and clear, and I thank them for ultimately defining this double CD offering."
Check out Satriani's band featuring drummer Jeff Campitelli and bassist Allen Whitman here. Copies of "Essential" can be purchased online.
Savoia is a frequent contributor to GeneStout.com. Visit his Web site by following this link. View his photos of Roger Waters' concert in December at the Tacoma Dome here.