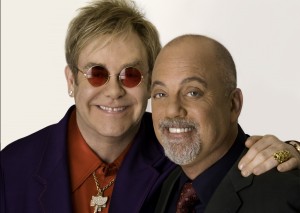 Elton John and Billy Joel turned KeyArena into the city's biggest piano bar last night, serving up more than 30 classic songs in a double-shot cocktail of musical nostalgia dubbed "Face 2 Face."
Though the superstar piano duo has performed this same basic show countless times over the last two decades, it's still a great value with more than three hours of hit songs, from John's "Rocket Man" and "Philadelphia Freedom" to Joel's "Angry Young Man"' and "Scenes From an Italian Restaurant."
John and Joel can be forgiven for not being quite as energetic as they were when the dueling-piano show made its debut in the mid-'90s. But the musical superstars still have a strong on-stage chemistry that easily ignited the capacity crowd at the Key, even if the sets were predictable and surprises were almost nil (save for a terrific rendition of Jimi Hendrix's "Purple Haze" during Joel's set).
"For a minute, I thought you were Lady Gaga," John quipped as he glanced at his musical partner across the stage, a reference to his performance with the British pop sensation last Sunday at the Grammy Awards.
John and Joel traded vocals, singing each other's songs in a friendly give-and-take as they faced each other from opposite sides of the stage. Indeed, if someone didn't know, "The Bitch Is Back" could have been a Joel song — and "You May Be Right" a John tune.
Backing the duo were more than a dozen musicians, among them Carl Fischer, a phenomenal horn player featured on Joel's "Zanzibar"; and sax man Mark Rivera.
A giant LED screen was used for piano-pounding closeups and dazzling lighting effects.
Despite John's greater star power, Joel may have had a slight edge over his partner, generating a bit more excitement during his solo set than John did during his. But when it came to attire — no surprise — John was the clear winner with pink shirt, dangly earrings, black tux and brightly colored shades (Joel, on the other hand, was dressed in a gray suit coat, dark shirt and black slacks).
During John's set, standout moments included "Love Lies Bleeding," "Saturday Night's Alright (for Fighting)" and a wistfully beautiful version of "Goodbye Yellow Brick Road" that he dedicated to Seattle's Alice in Chains. Joel rocked the house with such songs as "We Didn't Start the Fire" (featuring a kaleidascope of imagery), "Only the Good Die Young" and "Allentown," which is getting a second life as an anthem for the current recession.
Each man's set evoked the glory of more innocent days — John with "Crocodile Rock" and Joel with "It's Still Rock 'n' Roll to Me."
The pair wrapped the show with a two-song encore of "Candle in the Wind" and "Piano Man," closing the evening on a somber note (Joe's trilling harmonica was the highlight of the latter tune).
A second show is at 7:30 p.m. Saturday (Feb. 6) at KeyArena.
For a nice gallery of concert photos, visit Seattlepi.com.
What did you think of the concert?
(Story has been updated to correct errors in first version — Stout)