Queensryche's 2009 album, "American Soldier," was an intense, hard-hitting record — and one of the band's most ambitious.
It explored the emotional and physical impact of war through the real-life stories of U.S. soldiers in Iraq and Afghanistan. "It's very sobering when you put yourself in someone else's shoes," says singer-musician Geoff Tate.
But with the approach of Mardi Gras and Valentine's Day, the Northwest rock band known for its thought-provoking lyrics and soaring, progressive-metal sound is exploring its lighter side with "Queensryche Cabaret" — billed as "the first adults-only rock show" — while on a break from recording its next album.
The flamboyant production, which makes its debut Thursday and Friday (Feb. 4-5) at Snoqualmie Casino, is an interactive, Cirque du Soleil-style show combining music and cabaret, including go-go and burlesque dancers, drag queens, jugglers, a trapeze artist and a contortionist.
In an interview this week, Tate talked about the creation of "Queensryche Cabaret" and the band's upcoming album, as well as the lessons of the "American Soldier" tour, the meltdown of the music industry, the launch of Tate's latest wine, and the addition of Queensryche's newest member — Tate's son-in-law, guitarist Parker Lundgren.
When I called, Tate was on his way home from Walla Walla, where his second "Insania" wine — a blend of sauvignon blanc and semillon with a hints of pear, apricot and honeydew melon — was being bottled at Three Rivers Winery.
Tate will launch the new wine, priced at $25 a bottle, with tastings before each show at Snoqualmie Casino. The white wine follows last year's successful release of a red, a Bordeaux blend.
JUGGLERS, DANCERS AND TRAPEZE ARTISTS
More about the new wine in a moment. First, a few of Tate's thoughts about "Queensryche Cabaret."
"The casino asked if we were interested in doing some kind of special show for Mardi Gras and Valentine's," Tate explained. "And we thought, 'Oh, wow, that sounds kind of fun.' We'd been toying around for years with the idea of working with performance artists and creating a different kind of show during the months we finished writing the new record. So while brainstorming about it, it developed into a production.
"The cabaret-style show, inspired in part by Teatro ZinZanni and Cirque du Soleil, syncs the band's songs with the action on stage. And the audience will be encouraged to interact with the performers.
"A lot of the songs in the show are ones we haven't played in a long time. Or in the case of three of them, songs we've never played live. And taking these different kinds of Queensryche songs and writing a storyline that connected all these songs to each other."
The presence of the performers — dancers, jugglers, trapeze artists and the like — works within the context of the story.
"It's an interesting show you can enjoy on a lot of different levels. There's definitely a beginning, a middle section with conflict, and then a resolution. And at the end there's a bit of a moralistic lesson. I have to say, it's very entertaining. I'm very pleased with the whole thing. It's got funny parts, but also sad parts — like life itself."
A DIFFERENT KIND OF QUEENSRYCHE ALBUM
Tate wasn't sure if the band — including Lundgren, Scott Rockenfield, Michael Wilton and Eddie Jackson — would take the show on the road.
"This is a new thing for us. It's kind of our little preview, our test show. It's the kind of show where you kind of have to stay in one place for a couple of days, like a residency. It's an expensive production. But we're testing it to see if it's something we can do in some of the major cities," he said.
Tate added that the cabaret show has nothing to do with the band's upcoming album (a release date hasn't been announced).
"It's probably going to be the most different and unique Queensryche album we've ever made," he said. "It's a very different approach."

Part of that approach was determined by the sorry state of the recording industry.
"There is no record industry anymore. It's gone," Tate said. "Any kind of intellectual material — music, movies, books, newspapers, magazines — all these things are going down. All the millions and millions of dollars that people made in these industries — not just individuals, but the support network that made a living from those industries — all those jobs are going or are gone. The whole thing is unraveling and it'll just keep unraveling until there's nothing left. Because of the Internet. That's the vehicle. Not the cause, just the vehicle.
"And so you can't use the music industry model of 10 years ago to talk about today. It doesn't exist. And a lot of people who don't know anything about the industry, when they see a band not being able to sell records or selling very few records, they tend to think, 'Oh, that band must not be very good.' Or the artist must not be very good — or that's releasing sub-par material. But they don't understand that you can't sell records on the scale we had before."
'YOU CAN'T GET BITTER AND CYNICAL'
Queensryche has sold more than 20 million albums. In the band's heyday in the early '90s, a new album might sell 500,000 copies in a relatively short period of time, causing jubilation at the band's record label.
"Today, the younger guys in the business are jumping up and down when their band sells 2,000 records. There's a big difference between 2,000 and 500,000. And that number keeps going down and down."
There's no way to fight the Internet and technological advancements, Tate said.
"Any time you put a safeguard on it that is supposed to protect people, protect the intellectual property, within a week or less someone figures out a way to get around it. So this has changed the way musicians make a living. Whereas we used to play 110 live dates a year, now we're playing 210 dates a year. So income-wise we're not being hurt by the piracy. We're making the same amount of money we were back then. So it's not hurting us.
"But new bands, new artists, who don't have a touring audience, can't go into any major city around the world and plop down and play a big show. How will that happen? And what is the fate of art and music in our culture?
"You can't get bitter and cynical about it and pine for the good old days. It's just not going to happen. You have to get crazy and come up with new ways of making a living."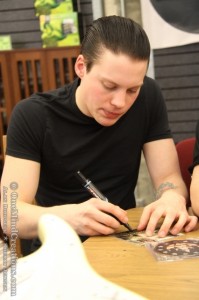 Tate is grateful to share the band's legacy — going back to its first album in 1983 — with son-in-law Lundgren.
"It's fantastic. He's one of those people who takes on all the responsibility. If you say, 'I need this done,' he gets it done. He'll say, 'I'll have it done tomorrow.' And he does it.
'AMAZING EXPERIENCES' FOLLOWED 'AMERICAN SOLDIER'
"He knew all the material right off the bat. We didn't have to teach him anything and sit for hours and hours showing him how to play a Queensryche song. He just figured it out."
The guitar parts in a typical Queensryche song can be complicated.
"There's a lot to it. There's a way to play it that works, and a way play it that doesn't. A lot of guitar players aren't familiar with that style of playing. Parker is a musician's musician who is very schooled and not only plays rock music but also classical and jazz guitar. He's also a great singer, and he's proving to be a really great songwriter as well."
Queensryche's last world tour following the release of "American Soldier" (Atco/Rhino) included stops at military bases.
"The whole album and tour were amazing experiences, " Tate said.
"We get letters and emails about that record from all over the world, from people in the military, from people who know people in the military, families. The thing they kept saying was, 'Thanks for making this record.'
"People listened to the record and started talking about their experiences for the first time. The record has become a kind of communication tool that people are using with their son or daughter or husband or wife or whoever was in the military. They ask, 'Is this what it was like for you?' That starts a dialogue about something that maybe they've never talked about.
"And then playing it for the troops at different places around the world, wow. I recall a specific show at Fort Benning, Ga., which is kind of deployment central for the Army.
"We played for the troops who were leaving to go to Afghanistan. It was a beautiful day, an outdoor show, and everyone brought their families and we played the entire album. And we watched them react to it and be affected by it and hold their wives closer and hug their children. And knowing that some of them wouldn't come home was overwhelming."
'WINE IS LIKE MUSIC'
Tate's mood brightened when he talked about his latest wine launch.
Tate and his wife, Susan, met Three Rivers winemakers Holly Turner and Andy Slusarenko at a wine dinner about seven years ago.
"We've been friends with Andy and Holly for a number of years and really like their wine," Tate said. "She's really fun to party with. She's a barrel of laughs and so is her husband. They're a wonderful couple. That's really what started the project, just knowing them and having them at our shows … It's a great friendship."
The idea of launching a wine came during a casual dinner with Turner and Slusarenko.
"With Holly and Andy, we sit around and talk wine and drink wine. Everything starts with a conversation. It's like every endeavor we've ever done. It starts with the words, 'What if we … ? That's what starts the ball rolling."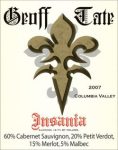 Tate launched the red wine last September with a solo performance at the Three Rivers Winery's outdoor stage. But when on the day of the show, it was "pouring down rain."
"Most people would have canceled the show. But Andy said, 'We can make this happen.' And he called his crew in and with forklifts, and they moved all of the barrels out of the barrel room and put them in a temporary facility outside. They moved the whole show — chairs, lights and the p.a. system — into the barrel room."
Tate, who loves drinking wine as much as making it, concedes that "wine is like music. It's all subjective." He was clearly excited about the wine he had helped to create in Walla Walla.
"It was wonderful because it was the culmination of the dream of launching a white wine. Today we put it in the bottles and actually held it in our hands. Now we're onto the next phase, which is to talk about it and share it with the world."
Following the success of Tate's first wine last year, the launch of a second wine made sense.
"We've always wanted to release a white. That was our game plan from the beginning. But we needed to take things slow and build on some success. The red sold so well," Tate said.
"The question was what kind of white to do? The four of us, we all love French wine quite a bit. And Holly is very tuned into that and wanted to do something that was very French in style, but with more of a West Coast feel. So that's why we chose the sauvignon blanc and semillon blend because it has the complexity and the structure of a French blend, but it has this nose and mouth feel of a West Coast wine. It's not quite so austere."
In May, Tate and Turner will host a winemaker's dinner at Three Rivers Winery. Get the details here.