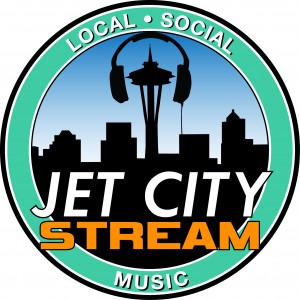 By GENE STOUT
Two Seattle radio legends of different eras – Marco Collins and Pat O'Day – team up at 3 p.m. Friday, Sept. 28, for a countdown of Seattle's Top 20 songs on Jet City Stream.
Listen on the Jet City Stream website.
Collins, who is host of a regular show at 3 p.m. weekdays on Jet City Stream, and O'Day each have the distinction of being featured as influential regional radio personalities at the Rock and Roll Hall of Fame in Cleveland, Ohio.
Collins was music director and star DJ at Seattle's 107.7 FM "The End" in the early '90s at the height of the Seattle grunge/alternative scene. Collins helped break such artists as Nirvana, Weezer, Beck, The Presidents of the United States of America, Foo Fighters, Garbage and Harvey Danger. He later launched Stampede Records, which released Silkworm's 1993 EP "His Absence Is a Blessing" and Muzzle's "Free Trampoline/Come On Down" seven-inch single. Collins has also worked at stations in Los Angeles, San Diego, San Francisco and Sacramento.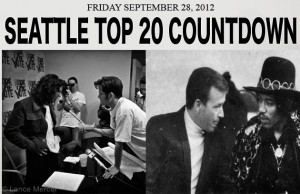 O'Day, a Northwest DJ, radio personality, program director, station manager and concert promoter, is fondly remembered as the afternoon drive personality at Seattle's KJR 950 AM in the '60s. He also helped break some of the Northwest's top recording artists during that era and was the highest-profile DJ of the time. Among the songs he broke was The Ventures' "Walk Down Run," which O'Day played as a "news kicker" to fill the moments before the 5 p.m. news. It quickly became a hit song.
O'Day later owned oldies station KYYX 96.5 FM in the '70s and early '80s. To younger listeners, he is known as "the voice of the hydros" during Seattle's annual Seafair hydroplane race, as well as the spokesman for Schick Shadel Hospital.
Jet City Stream made its debut April 11, 2012. Its mission is to support and celebrate local music, musicians and businesses with an online digital entertainment platform.
In addition to JCS staff members Collins and Shawn Stewart, several new additions will be announced in October.