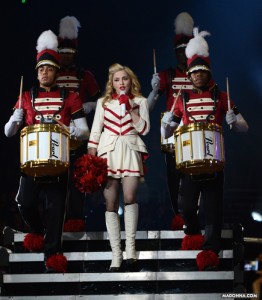 By GENE STOUT
Twenty-seven years after opening her first concert tour in Seattle, Madonna thrilled fans with two hours of music and spectacle Tuesday night, Oct. 2, at KeyArena (the opener was French and producer DJ Martin Solveig). It was the first of two Seattle shows this week by the 54-year-old pop star and master of reinvention.
Heavily choreographed songs ran the gamut from the never-settle-for-second-best high school fantasy of "Express Yourself" (featuring Madonna in a vintage majorette outfit) to the violent and macabre "Gang Bang," a queasy revenge fantasy set theatrically in a cheap motel room with fake blood spraying everywhere.
Backed by more than 20 cast members (singers, dancers and musicians), Madonna rolled out a massively entertaining but mind-bogglingly elaborate show supporting her latest album, "MDNA." The pop star took full advantage of a giant stage that jutted into the audience like the prow of ship, with an open section in the middle for fans with big bucks (ticket prices ran as high as $355).
Late in the show, Madonna pulled off her shirt (but not her bra) to reveal the word "Obama" on her bare back, then teasingly dropped her pants to expose her thong and bare buttocks. "My ass belongs to Obama," she said, vowing to take her pants (and presumably the thong) all the way off if the President wins a second term. (The accompanying photos were taken in other cities on the tour.)
Madonna also thanked concertgoers for their decades of support and reminded them that her first concert tour ("The Virgin Tour") opened in Seattle in 1985 at the Paramount Theatre, with the then-unknown (at least in Seattle) Beastie Boys opening. (This was more than a year before "License to Ill" was released.)
At the time, Madonna had yet to prove herself as a viable concert performer. But the sold-out concert – attended by music writers from around the country – was a triumph for the 27-year-old singer.
I was there to review the show for the Seattle Post-Intelligencer (two additional shows followed on subsequent nights). I hadn't been on the beat for more than a couple of years, and the report seems almost quaint today (note that I called Madonna a "rock 'n' roll star"). Here are excerpts from my review of April 11, 1985:
"From beginning to end, Madonna's sold-out concert last night at the Paramount Theatre was an unusually intense affair," I wrote.
"After all, it was the very first show in a debut tour by the rock 'n' roll star, and fans and critics alike were all eyes and ears. Could she pull it off? What would the show be like?
"Concertgoers seemed to be divided into two camps. On the one hand, there were clean-cut suburban teenyboppers and the often-ridiculed Madonna wannabes; and on the other hand, curious rock fans of all ages — not to mention a small army of journalists from around the country who were on hand to document the official start of 'The Virgin Tour.' "
"Shortly after 7 Madonna quietly arrived at the rear stage door in a black limousine. Dressed in what looked like a Boy George outfit, she looked reluctant, almost scared, and kept her eyes on the ground as she and her small entourage swept past a modest gathering of fans. Someone mumbled, 'There she is,' and that was all."
But inside the Paramount, the evening was building into a frenzy.
"The show began with a 30-minute set by the (Beastie) Boys, an all-white, New York rap group (complete with disc jockey), whose lead rapper got off to a bad start by declaring himself 'King of the Paramount' and generally making the pro-Madonna audience feel like a swarm of hillbillies.
"It was a quirky, almost tongue-in-cheek act, and the crowd didn't seem to be in the mood for it. Each song was followed by boos and then more putdowns by the (trio) of rappers. Shortly before leaving the stage, one of them facetiously said, 'Me and the boys are gonna go backstage and tell Madonna what a great audience you are.' It wasn't a good beginning.
But Madonna turned night into day.
"The singer's long-awaited first concert was every bit as impressive as her recent major-film debut in 'Desperately Seeking Susan.'
"Stepping from behind a giant screen at the rear of the stage, the rock 'n' roll singer sashayed down a flight of stairs and out onto a platform that extended into the orchestra pit. She was flanked by two dancers, Lyndon Johnson and Michael Perea, and accompanied by a band that featured two keyboardists, a bassist, drummer and two guitarists.
"Several banks of lights illuminated her garish outfit, which consisted of a miniskirt, boots, lace top and a purple peekaboo bra. Throughout the show, her flat midriff got maximum exposure.
The massive crowd held nothing back for Madonna's grand entrance. Some fans never stopped screaming for the rest of the evening.
"One of her first numbers was the high-stepping 'Holiday' from her debut album, and when it became apparent that the crowd was overwhelmingly in her favor, she began to loosen up.
" 'How ya doin', Seattle? You wanna rock with me?' she said coyly, followed by, 'I was nervous, but I'm not nervous anymore.'
"The concert rolled along, gathering momentum with each song. Rhythms were punchy and melodies soared. The hits came in rapid succession: 'Borderline,' 'Lucky Star,' 'Over and Over.' Madonna's voice, though limited in range, seemed full of determination.
"Her dance routines, some of them done in breakdancing style, were flamboyantly choreographed, and only once did she slip.
"At one point, a cloud of white balloons descended from the ceiling. The crowd bounced them onto the stage, and Madonna gleefully fended them off.
The atmosphere almost became giddy, and people started dancing in the aisles. Some were even hugging each other.
"Shortly after 10, Madonna took her first bow, returning in a mock white wedding gown, complete with veil, for an explosive version of 'Like a Virgin.' The crowd seemed surprised at first by the costume, and she asked, 'Will you marry me?' She interjected a portion of Michael Jackson's 'Billie Jean' into the song, and the crowd went crazy.
"Finally, she came out for the final encore, which featured an orgiastic version of 'Material Girl.' Seemingly delighted with her concert debut, she cast wads of play money into the audience.
"It was the grand finale in a show that won't be soon forgotten."
Watch a video of the song "Turn Up the Radio" from "MDNA":