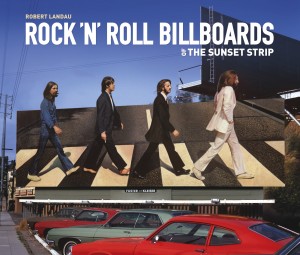 By GENE STOUT
The rollout of lavish rock 'n' roll books for the holiday shopping season begins with "Rock 'n' Roll Billboards of the Sunset Strip" (Angel City Press)," created by Los Angeles author and photographer Robert Landau.
The 208-page coffee-table book — due in stores Oct. 15 — features larger-than-life billboard images of such "rock royalty" as the Beatles, Rolling Stones, Led Zeppelin, Pink Floyd, Santana, Carole King, James Taylor, Stevie Wonder, Neil Young and others who graced the billboards of Hollywood's Sunset Strip in the '60s, '70s and '80s.
The accompanying text is based on Landau's interviews with the record executives, designers, graphic artists, photographers, billboard painters and musicians who created the giant artifacts.
The Doors erected the first rock billboard 45 years ago. Landau was 16 and living above the Strip near Tower Records when he began taking pictures of the iconic images.
"The billboards became symbols signifying success in the music business, much like landing on the cover of Rolling Stone magazine," Landau says in a video trailer for the book. "They flourished right through the '70s and up through the early '80s when the emergence of MTV and the need for costly videos spelled the end of rock 'n 'roll billboards."
Learn more about the book or order a copy at the official website here. And learn more about Landau at his website.