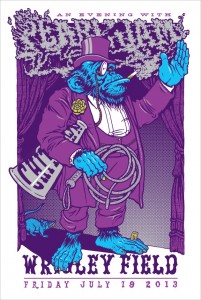 As part of the Experience the City of Music program at Seattle-Tacoma International Airport, the Port of Seattle, EMP Museum, Pearl Jam, and poster artists Ames Bros. today unveiled a new exhibit of screen prints commissioned over the years for the band's promotional concert posters.
The exhibit on Concourse A is the second music-themed attraction for the program from EMP Museum following an initial exhibit of Jimi Hendrix.
"As a first and last stop to new visitors, we are proud to highlight the unique artistry of the music culture within our region at Sea-Tac Airport and this exhibit shows there's more to it than just the music," says Port of Seattle Commissioner John Creighton. "The music program continues to expand. We are grateful to everyone who's participating with the various elements and our travelers continue to love it."
Organized by EMP Museum, in collaboration with Pearl Jam, Ten Club and Ames Bros., "PUSH ME, PULL ME: Pearl Jam and the Art of the Screen Printed Poster" features 85 posters from more than 30 artists, including the Ames Bros., Brad Klausen, Munk One, Ward Sutton, and others. These posters reflect the artists who created them, but they are also an extension of the band, referencing the musicians, the venues and cities in which they play, as well as song lyrics, contemporary politics, and a love of history and popular culture. But most of all, these myriad posters illustrate some of Pearl Jam's core artistic values: the desire to foster a climate of creativity, to act as a patron for the other artists and to provide comment and critique on society and humanity.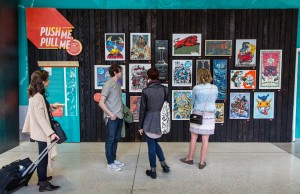 "Historic and cultural milestones live on in these works of art," says Jacob McMurray, Senior Curator, EMP Museum. "These posters commemorate amazing concerts, such as Pearl Jam's four-night stand at The Spectrum in Philadelphia in 2009, where they closed down that fabled venue, but they also convey the band's and the artists' points of view on contemporary society. As such, these posters are more than just graphic ephemera, but in fact objects of often deep artistic and cultural meaning."
When Pearl Jam formed in Seattle in 1990, posters were one of the few ways a band could communicate with their audience. They were vital to advertising a future show, but also important for conveying, through the art and design, the identity of the band. Soon after the alternative rock explosion in the early 1990s, as screen printing technology was being re-embraced for artistic purposes, Pearl Jam began commissioning posters for nearly every show they played.
"Back in '95, on a snake farm in Bangkok, my brother (Jeff Ament) and I hatched a scheme to create a series of screen-printed posters for some upcoming shows," said Barry Ament of Ames Bros. "There was no intent behind it, no long-term vision, just the need to be creative. Really just an outlet for fun. I knocked out several posters and within a few months Coby stepped in to join the fun. We were given enough rope to try new things, explore different styles and techniques and ultimately it brought out our best. The result is a massive body of work that we are truly proud of."
"The significance of the airport's Experience the City of Music program cannot be understated," says Kate Becker, Director of Seattle's Office of Film + Music. "It shines the spotlight on Seattle's rich musical history through carefully curated exhibits like the Pearl Jam Poster Exhibit, showcases the city's rich musical diversity through a robust schedule of live musical performances, and gives visitors, both near and far, a taste of what we are fortunate to be able to experience daily – our dynamic and extremely talented local music industry."
The new exhibit is located near gate A1 on the concourse along three walls of the walkway and can be visited by any traveler post-security.
"It is very gratifying to see how the Experience the City of Music program at the airport continues to grow and develop," says Nadine Zgonc, Seattle Music Commissioner and head of Brand Strategy and Account Architecture for PlayNetwork. "Being able to help bring a variety of media elements designed to showcase our region's diverse musical identity and talent has truly been the highlight of my work at PlayNetwork and as a Seattle Music Commissioner. It's a joy to come to the airport and watch how travelers respond and interact with all of the musical elements. I love what's been done so far and can't wait to see what comes next."