By GENE STOUT
Twenty Seattle concert photographers – many of them regular contributors to GeneStout.com – are featured in a special exhibit in April at the Musicquarium Lounge at The Triple Door, 216 Union St.
The display opens Thursday, April 4, during happy hour from 5 to 7 p.m. Participating photographers have picked their best photos, which clubgoers can vote on through the month of April (guests will be given a ballot with their bills).
The exhibit is part of the First Thursdays visual art series at the Musicquarium. The event was created by Mat Hayward, "Rocktographer" and general manager of Wild Ginger Bellevue.
"It's no secret that Seattle is well-known for producing some of the world's most renowned musicians and rock stars," Hayward says.
"But there's this really incredible underground community of photographers that have shot them over the years. Seattle's concert photographers have had access to so many incredible shows, garnering both incredible stories and tips to share. These individuals are what this event is all about."
The roster of photographers includes Graham Lee, Jason Tang, Christopher Nelson, Morgen Schuler, Xander Deccio, Alex Crick, Chona Kasinger, Dan Rogers, David Conger, Mike Savoia, Stephanie Savoia, Greg Roth and "Island" Jennifer Dohner, as well as Jim Bennett, Marcella Volpintesta, Matthew Lamb, Mat Hayward, Kirk Stauffer, Suzi Pratt and Heather Fitzpatrick.
The music photography of Tang, Nelson, Crick, Mike and Stephanie Savoia, Bennett, Lamb and Pratt have been featured on this website. To view some of their images, search by name at the left.
Get more details about the Musicquarium exhibit here.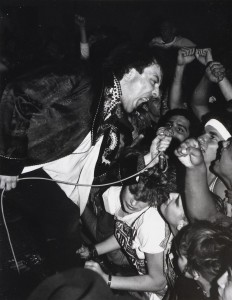 Coincidentally, another Seattle concert photographer – Alison Braun – will be featured from 5 to 8 p.m. Thursday, April 4, at Design Commission Gallery, 310 S. Washington St. Her exhibit, titled "In the Pit," will remain on display through April.
Braun's photos of the Los Angeles punk scene from 1981 to 1990 are historical treasures chronicling a unique period of American rock. Jello Biafra of the Dead Kennedys is among the performers Braun captured in stunning black-and-white images. Her work is also featured in the book "In the Pit: Photography by Alison Braun 1981-1990."
Braun began taking photos with a Pentax K100 camera (a gift from her father) when she was 14.
"Before I moved to Seattle in 1990, I lived in Los Angeles and spent 11 years documenting the punk scene with my camera," Braun says.
"I wrote for a few publications and submitted my photography for publication. I amassed a large archive of shots. Though I've been represented by Corbis Images and Getty Images for years, there has been a lot of interest in my work recently by fans of the music. People wanted me to do a show and put together a book of my favorite images. The upcoming show and the accompanying book are first steps in reintroducing my work to the next generation of punks."
Read more about the exhibit here. And visit Braun's website for more information about her work.