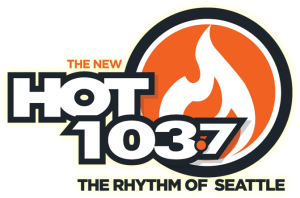 By GENE STOUT
The Seattle radio station long known as "The Mountain" has morphed into a "Hot AC" outlet targeting "modern Seattle women."
Especially those "who have moved beyond the 18-year-old mindset and grown out of the younger CHR sound, as well as the sleepy format of older AC stations," says Jack Hutchison, vice-president and marketing manager at Entercom Seattle.
Order a round of Cosmos and turn up the volume on "The New HOT 103.7" FM, which launched Friday, Aug. 30, by playing 10,000 songs in a row commercial-free, according to program director Mike Preston. The playlist reaches back to the '90s and includes songs by such artists as Justin Timberlake, Maroon 5, Color Me Badd, Pink, Adele, Ja Rule, Michael Jackson, Prince, Bruno Mars, Alicia Keys, Robin Thicke, Santana, Usher, Pitbull, Ne-Yo, and Seattle stars Macklemore & Ryan Lewis.
But listeners still fond of "The Mountain" can listen to it on an HD2 Radio channel, as well as via live streaming on the station's website and two mobile apps.
Hutchison adds, "Unfortunately, over time things change and tough decisions have to be made. Unlike most radio stations that simply go away and never come back, 'The Mountain' will live on. We are redoubling our effort to ensure this unique brand of music is there for our passionate fans."
To learn more about "The New Hot 103.7" FM, go to Facebook or the station's Entercom website.