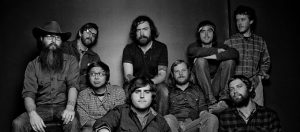 By MIKEL TOOMBS
Rodney Crowell, The Paperboys, Wheedle's Groove, Dan Hicks & His Hot Licks, Star Anna & the Laughing Dogs, Portland Cello Project, Pearl Django with Greta Matassa.
Is that, you ask, a partial lineup for Bumbershoot, whose theme this year is "The Great Mundane"? (Oh, wait: The Great Mundane is the name of one of the bands at the scaled-back Labor Day weekend festival. My bad.)
No, those are just some of the quality acts playing Seattle's noontime Out to Lunch concerts series this summer. For 90 minutes. For free.
The series, held Wednesdays and Fridays at various outdoor spots in the downtown area, kicked off last week with local favorites The Moondoggies and Hey Marseilles and winds up Sept. 2 with a performance by Leroy Bell & His Only Friends.
This week, check out acclaimed indie soul singer Choklate (Wednesday, June 22, at Occidental Square) and the fine, nine-man (well, not always) Americana band The Maldives (Friday, June 24, at Harbor Steps).
For the complete schedule, click here.
(EDITOR'S NOTE: Mikel Toombs is a frequent contributor to GeneStout.com. Read his recent preview of the remodeled Neptune Theatre here.)