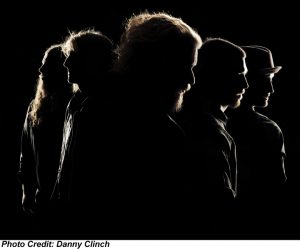 By MIKEL TOOMBS
The new My Morning Jacket album, "Circuital" (ATO Records), which made its debut at No. 5 on the Billboard Albums chart, starts in a manner that's, in the words of a classic "Almost Live!" sketch (you know, the one with the headbanging attitude that MMJ often shares), inexcusably lame.
Happily, after this four-song Lame List "Circuital" (frontman Yim Yames, the once and future Jim James, pronounces it "sir-cue-a-TAL") hits its stride on the uproarious "Out of My System." Here's an ode to the virtue of indulging your vices ("They told me not to smoke drugs, but I didn't listen") early that combines MMJ's epic-rock tendencies with steel guitar and an arrangement that recalls the Beach Boys' version of "Sloop John B."
The equally delightful "Holdin' on to Black Metal," complete with horns and "Black Metal Girls" choir, follows and MMJ is back to vintage, at times eccentric ("Got to radiate the gold," Yames/James sings of the aptly titled "Slow Slow Tune'), form.
Granted, this six-song stretch makes the already-short "Circuital" (sorry) even more brief. But surely the Louisville-bred rockers will expand on and ramp up the material, much as they did with the underwhelming (opinions differ) '05 MMJ CD "Z," when they perform live Sunday, June 26, at Seattle's Paramount Theatre (where, incidentally, I was introduced to the band eight summers ago as openers for Foo Fighters).
Tickets remain, although only for reserved seats in the Paramount's acostically challenged balcony. To purchase, click here.
Check out My Morning Jacket's website here.
(EDITOR'S NOTE: Mikel Toombs is a frequent contributor to GeneStout.com. Read his story about Seattle's Out to Lunch concert series here.)