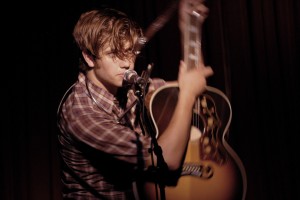 Since nearly everything associated with the blockbuster vampire movie "Twilight" is insanely popular, British singer-songwriter Bobby Long is getting a rock-star welcome in the U.S. this fall.
Long's "Let Me Sign" (written by Long and Marcus Foster) was featured in the original "Twilight" movie, even though Long's friend, "Twilight" star Robert Pattinson, sang the tune. (Long and Pattinson met an a London "open mic" about two years ago.)
When they see Long in action, "Twilight" fans are often amazed by his spirited, intensely personal folk-rock songs, such as "Left to Lie" and "The Bounty of Mary Jane" from the current album "Dirty Pond Songs." The collection of songs, available at Long's performances, was recorded in his bedroom.
"Left to Lie" and "The Bounty of Mary Jane" are available for download from iTunes and other digital outlets.
The 24-year-old songwriter, whose raspy voice and intimate, poetic lyrics lend his performances a bohemian coffeehouse vibe, also recorded a live album at New York's Arlene's Grocery, featuring the song "Being a Mockingbird." The album is available from digital outlets.
Long's Myspace page attracted more than 1 million views while he was on his "Dangerous Summer" tour, which has been extended into the fall. The trek features an all-ages show Thursday (Dec. 19) at El Corazon. Doors open at 7 p.m. In addition to Long, the crowded lineup includes Christina Cramer, Terra Naomi, Ari Shine and Adam Bones.
Long's Seattle show coincides nicely with the opening "The Twilight Saga: New Moon" in the Seattle area. Find showtimes here.
Earlier this week, members of the Quileute tribe near LaPush (Clallam County) were treated like celebrities at the Los Angeles premiere of the second film, "The Twilight Saga: New Moon." The new vampire/ werewolf movie is based on a Quileute legend, albeit fictionalized, in which wolves become humans. Read about it in a Seattle Times story.
With his London ties and his affiliation with the spooky "Twilight" phenomenon, Long could be humorously regarded as the latest in a long line of mythical werewolves of London. Check out these lyrics from the famous Warren Zevon song.
Here's a video of Long singing "Dead and Done Blues":
And here's a video of Long's "Let Me Sign," featuring Pattinson: