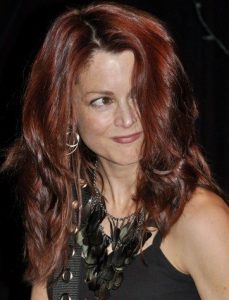 Wine, Women & Song. Sounds like a perfect evening, doesn't it?
A half dozen or more of the Seattle area's top female singer-songwriters and rising stars are paired with eight women winemakers from around the state for the intimate wine-and-music event at 7 p.m. Friday (June 25) at the Palace Ballroom, 2030 Fifth Ave.
Tickets, $25, can be purchased at Brown Paper Tickets or by phone at 800-838-3006. Each ticket includes wine tasting, appetizers and live music.
Designed to feel like a cocktail reception (at least for the first hour) with limited lounge seating, the event features a stellar lineup of local singer-songwriters: Kim Virant, Victoria Wimer Contreras, Star Anna, Betsy Olson, Sera Cahoone and Barbara Ireland. Each performs songs by female artists of the past and present.
Backing them is an all-male band featuring Chris Friel (drums), Jeff Fielder (guitar, vocals), Jeff Rouse (bass, vocals), Leif Andersen (guitar), Robert Mitchell (keyboards), Gary Westlake (guitar, vocals) and Justin Davis (guitar, vocals).
At a casual rehearsal this week in West Seattle, the atmosphere was genial as the singers and musicians worked on arrangements and tried alternate takes of songs that are featured in the show. Ireland rehearsed a 1960s rock classic that will be a surprise to attendees, but other songs in her set include "Perhaps, Perhaps, Perhaps"(as recorded by Doris Day), "Cry Me a River" (the Julie London version) and "St. James Infirmary."
Each set features four to five songs by each artist. Virant performs tunes by Gillian Welch, Bobby Gentry, Lulu, Liz Phair and Dusty Springfield. Contreras plans songs by Bebel Gilberto, k.d. lang, Sarah Vaughn and Heart (her version of "Crazy on You" is a killer).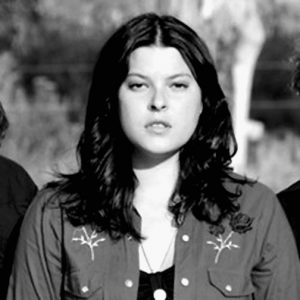 Star Anna (whom Mike McCready of Pearl Jam calls "an American original") sings tunes by the Pretenders, Neko Case, Blondie and Nina Simone. Betsy Olson is doing a selection by Lucinda Williams, Bonnie Raitt and Janis Joplin (Big Brother and the Holding Company). Sera Cahoone's set features songs by Loretta Lynn (among them "Wine, Women and Song"), Gillian Welch and Lucinda Williams.
Just added to the lineup of singers is Kristen Ward, who recently released a haunting new album, "Charles."
Oh, and what about the winemakers? They include Kelly Hightower (of Hightower Cellars), Kristina Mielke-Van Loben Sels (Arbor Crest Wine Cellars), Kay Simon (Chinook Wines), Joy Andersen (Snoqualmie Vineyards) and Lisa Baer (Baer Winery), as well as Anna Schafter (aMaurice Cellars), Kathy Johanson (O Wines) and Annette Bergevin and Amber Lane (Bergevin Lane Vineyards).
Each winemaker has an interesting story. Read about Kelly and Tim Hightower here.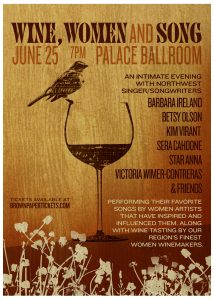 The event was organized by Debra Heesch of Seattle Theatre Group, which operates the Paramount and Moore theaters.
Heesch also produced the 2009 Patsy Cline tributes, tapping some of the same artists to interpret the hits songs of the country legend who died in 1963. Read about the first Cline tribute here.