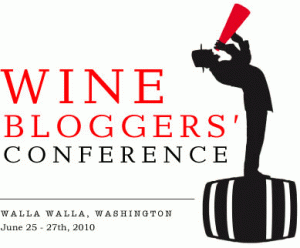 Today's blogging culture represents a multitude of interests, from music and movies to wine and food — actually, just about anything.
This weekend, more than 300 wine bloggers from around the state and around the country will gather in Walla Walla — dubbed "the city so nice, they named it twice" — for the 2010 Wine Bloggers Conference/ North America at the Marcus Whitman Hotel.
The bloggers conference is like a South by Southwest (SXSW) for wine bloggers. It's a mix of academic sessions, keynote speakers, winery excursions, great food, and, of course, wine tasting (including a taco truck tasting). And it's completely sold out.
Among the events are two "live wine blogging" sessions, one for white wines and one for reds. Wine enthusiasts can expect a hail of blogs and Tweets (using hash tag #WBC10) from the sessions.
"Breakout sessions" feature many luminaries from the world of wine, among them Northwest wine critic Paul Gregutt (speaking on "The Washington Wine Industry" along with Coman Dinn and Sean Sullivan). An 8 a.m. session Saturday (June 26) features geologist Kevin Pogue speaking about "Terroirs of the Walla Walla Valley." (Terroir is French for soil, but it means a lot more than dirt when you're talking wine.)
The Saturday (June 26) keynote dinner, which is hosted by the Washington Wine Commission, features wine critic Lettie Teague, a staff writer and wine columnist for The Wall Street Journal and formerly for Food & Wine magazine ("Wine Matters"). Read one of her columns here.
Participants include citizen and business wine bloggers (about 70 percent) as well as sponsors, industry reps, the media and local winery owners. I'll be among hundreds of participants, throwing out Tweets @popmusiccritic over the three-day weekend (June 24-27) and writing at least one wrap-up story on the event for these pages. It's another hat I'm wearing these days.
Why Walla Walla? The valley is an American Viticultural Area (AVA) that boasts more than 100 wineries. The region has a rich history, beginning with the Oregon Trail and the Whitman Massacre. The town in southeastern Washington State was founded by the Hudson's Bay Company, and the first people to plant vines there were French fur trappers.
Among the event sponsors are Barnard Griffin Winery, King Estate, Napa Valley Vintners, Wines.com and the Wild Walla Walla Wine Woman, who blogs about wines from the Walla Walla Valley and operates the Smooch Society Wine Club.
There's also a musical component to the conference, sort of. K Vintners and Charles Smith Wines are the hosts of a "library wine tasting" and a night of rockabilly by Big John Bates and the Voodoo Dollz Friday (June 25) at 35 S. Spokane St. in Walla Walla. Tickets are $30 in advance at Charles Smith Wines or by phone at 509-526-5230. Smith is the "rock star" of Walla Walla wines; before he arrived in the valley, he managed rock bands in Scandinavia for nearly a dozen years.
For more information about the conference, visit the Web site by clicking here.
And if you're a wine lover, but don't have plans to go to Walla Walla, you may enjoy the Wine, Women and Song event Friday (June 25) at the Palace Ballroom. Read about it here.