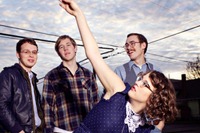 By MIKEL TOOMBS
With the passing of The Band's all-Americana legend Levon Helm, rock's original voices are now few and far between.
Happily, you can hear one tonight (Friday, April 20) in Seattle, up on Capitol Hill: Wanda Jackson, her rockabilly growl still remarkably intact at age 74 (Helm, reduced to a whisper by throat cancer, died at 71), will kick up a storm at Neumos, backed by local heroes The Dusty 45s and featuring support act Sallie Ford & the Sound Outside (more on them later).
Some 56 years ago (!) Oklahoman Jackson dated Elvis Presley (she wore his ring around her neck) and started making a string of remarkably vital recordings; her greatest (non-)hits collection is aptly titled "Rockin' With Wanda!"
Although unheralded at the time (the once and future country singer's only rock success was "Let's Have a Party," earlier covered by Elvis), Jackson has been rediscovered by the likes of rockabilly filly Rosie Flores and, recently, by no less than Jack White (he helmed her current album, "The Party Ain't Over") and Adele. Jackson's Paramount Theatre appearance with Adele was reviewed here.
Intriguingly, Portland's Sallie Ford & the Sound Outside, which graced the EMP Sky Church Stage last year at Bumbershoot, can sound even more vintage: Paste Magazine, in hailing it as one of the "20 Best New Bands of 2011," wrote that the group "decided to take a little bit of Bessie Smith and mix it with a dash of Tom Waits. The result is a delicious goulash of rockabilly and blues with just enough punk attitude to separate Ford's sound from all the other homage-rock bands out there."
(EDITOR'S NOTE: Mikel Toombs is a frequent contributor to GeneStout.com. Read his review of Adele's August 2011 concert here.)