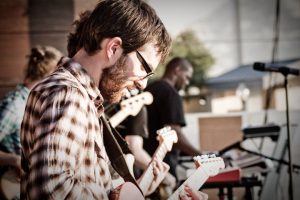 This year's Earth Day will be celebrated day and night at the first Fremont Earth Day Festival April 21-22 at Nectar Lounge in the Fremont district.
The festival features 20 bands, acoustic performers and DJs, among them jazz fusion group Snarky Puppy of Brooklyn, N.Y., and local performers Marmalade, Adrian Xavier and the Rise N Shine Band. Learn more about Snarky Puppy here.
The bicycle-themed event includes a number of speakers and sponsor booths promoting bicycle commuting and sustainability, as well as a raffle and silent auction benefitting the Cascade Bicycle Club's Education Foundation.
"Earth Day provides an opportunity for communities to come together and to recognize and celebrate our collective efforts to preserve a sustainable Earth," says Nectar co-owner Tate Rogers. "We are focused on bicycle commuting because it is a widely accessible and relatively cheap way to reduce one's carbon footprint, as well as being a fun, wholesome and healthy activity."
The festival is also kid-friendly, opening each day at 11 a.m. with a Kid's Dance Party featuring DJs spinning records for the kids, followed by Bubbleman from noon to 1 p.m. on Saturday and a children's concert from noon to 1 p.m. Sunday featuring the rocking kiddie band The Not-Its! Our
Beginning, an environmentally friendly childcare and early learning center, will be on site both days with projects for kids. And Theo Chocolate will hand out samples of its new World Bicycle Relief bar.
Those riding bicycles to the event will receive $2 off admission after checking their helmets at the door. Recycled Cycles will accept bicycle donations to be refurbished and donated to Bikes for Humanity, an organization that provides bicycles for communities in Africa. Those donating a bike will receive free festival admission.
For more information, ticket prices and a schedule of bands, visit Brown Paper Tickets. And visit the festival's Facebook page.