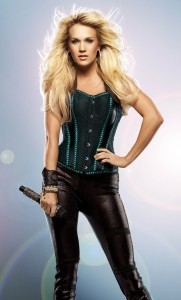 By GENE STOUT
The Washington State Fair, formerly known as the Puyallup Fair or Western Washington Fair, is offering pre-show dinners and "after parties" at four of its top concerts – Little Big Town Sept. 9, Al Jarreau (with the Tacoma Symphony) Sept. 10, Carrie Underwood Sept. 13 and Kid Rock Sept. 22 (dinner only).
Ticket holders to any of these four concerts can purchase the VIP package for $50. The package includes a no-host cocktail, dinner catered by Steel Creek American Whiskey Company, a VIP Concert Series laminate with lanyard, and a post-concert no-host party – all at the swank Fair View Club. (There won't be an after show party for Kid Rock.)
To order the VIP package, contact the Washington State Fair at 888-559-3247 from 7 a.m. to 8 p.m. daily (PST). Availability is limited.
The Fair View Club is located on the east side of the Washington State Fairgrounds, with a view of the Sleep Country ShowPlex (the grandstand seating area of the concert venue), as well as the dazzling lights of the midway. The building was remodeled last year and offers the most luxurious seating and décor at the fairgrounds.
The 113-year-old fair – the 10th largest in the country, with more than 1 million visitors annually — begins a new era with its debut this year as the Washington State Fair, which better represents its scope as the top fair in the state. In the past it has been known as the Puyallup Fair and Western Washington Fair. But even with the name change, visitors can still "do the Puyallup," taking in concerts, the PRCA Rodeo, rides, exhibits, food, flowers and animals during the fair's 17-day run from Sept. 6-22.
For more information,, visit the official website or text "FAIR" to 87767.