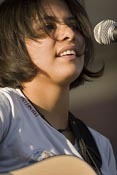 Who gets the better deal at Bite of Seattle? Music fans or food lovers?
Actually both. The annual eat-a-thon today through Sunday is packed with food booths and music stages, so you can grab a meal (or two or three) and take in a show at one of four stages at the 28th annual festival.
Here are a few recommendations for today's music offerings:
— Rising star Vicci Martinez at 6 p.m. and dance band Soul'd Out at 8 p.m. at the Quadrant Homes/ 106.1 KISS FM stage
— "Country-tonkers" Purty Mouth at 7:30 p.m. at the Bite Blues Roadhouse stage
— Jazz/ R&B singer Caprina Stone at 7 p.m. at the Amica Insurance/ 95.7 KJR FM stage
— Eighties hair-metal band HairMageddon at 6 p.m. and '80s rock band One Eyed Jack at 7 p.m. at 102.5 KZOK Mural stage
— Jazz, pop and rock singer Victor Janusz at 6 and 7:30 p.m. at the Sagelands Vineyard/ 98.9 KWJZ stage
Admission is free. Hours are 11 a.m. to 9 p.m. today and Saturday and 11 a.m. to 8 p.m. Sunday.
Check the Bite of Seattle Web site for complete information about the weekend festival.