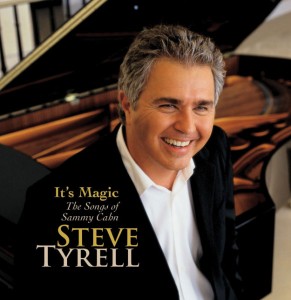 By GENE STOUT
Ever since singing "The Way You Look Tonight" in "Father of the Bride," the 1991 movie starring Steve Martin, Steve Tyrell has been thrilling listeners with warm, honeyed interpretations of tunes from the Great American Songbook."
His latest album, "It's Magic . . . The Songs of Sammy Cahn," pays tribute to the great songwriter who received 27 Academy Award nominations and won four. Sinatra recorded more than 80 of Cahn's songs. Tyrell's album arrives just before what would have been Cahn's 100th birthday (he was born June 18, 1913).
"It's Magic" opens with a soaring "Come Fly With Me," followed by stirring interpretations of "It's Magic," "The Tender Trap," "All the Way," "Teach Me Tonight" and other famous songs — 13 in all — with arrangements by Alan Broadbent, Don Sebesky, John Oddoe and Bob Mann. Mann worked with Rod Stewart on "As Time Goes By/Stardust (The Great American Songbook, Vols. 2-3)."
Tyrell, who began producing with Burt Bacharach and Hal David when he was 19, collaborated with B.J. Thomas on the Bacharach-David hit "Raindrops Keep Fallin' on My Head," which won the 1969 Oscar for best original song (from "Butch Cassidy and the Sundance Kid").
Tyrell will celebrate the release of the new album May 14 while performing at The Carlyle in New York, where he's been playing to overflow crowds for more than six years.
Read more about Tyrell on his official website.